Politics
Kentucky's Medicaid Work Requirement Is an About-Face
The plan will lower enrollment in a state that until recently was held up as a model of health insurance expansion.
By and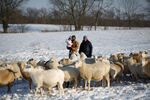 Kentucky is about to become the first state to impose a work rule for Medicaid. Ben Abell and Bree Pearsall worry about what it will mean for their business. The married couple raise lamb and grow 40 crops on a farm outside Louisville that Abell says is "minimally profitable." They don't have pay stubs or time sheets to document the hours they work. That could be a problem starting this summer, when the state will require Medicaid recipients to prove that they're working or that they qualify under a handful of exemptions. The couple has been on Medicaid since their daughter was born in 2015. Although Pearsall, who's pregnant with their second child, will probably be exempt from the requirements, Abell could find his coverage at risk. Paying for private insurance would mean "we'd have less to invest in growing the business," he says.
Tightening access to Medicaid has been a long-held goal of conservatives. The 53-year-old state and federal partnership provides insurance to 72 million low-income Americans and, at a cost of $586 billion, accounts for 17 percent of all health spending in the U.S. On Jan. 11 the Trump administration gave states authority to begin adding "community engagement" requirements such as work, volunteering, or job training for nondisabled adult recipients. The next day it approved Kentucky's bid to do so, which had been pending since 2016.

While the federal government covers the vast majority of Kentucky's Medicaid bill, the state still expects to save $2.4 billion over five years by lowering enrollment by 95,000 people. The move is a U-turn in the state's heath-care policy. Four years ago, Kentucky was seen as a model for its health insurance expansion. Its rollout of Obamacare in 2013 went smoothly. Under then-Governor Steve Beshear, a Democrat, Kentucky was 1 of 31 states to expand Medicaid through the Affordable Care Act. That almost doubled Kentucky's Medicaid population and cut its uninsured rate by more than 50 percent. Today, more than one-fourth of the state's residents, 1.3 million people, are on Medicaid.
While Beshear sees that as a measure of effective policy, his Republican successor, Governor Matt Bevin, elected in 2015, takes the opposite view. "We should not feel good about having lots and lots of people on these programs," he says. "That's bad for the recipient." Bevin campaigned on rolling back the state's Medicaid expansion. He engineered the work requirement with the help of Seema Verma, then a private consultant and now Trump's head of the Centers for Medicare and Medicaid Services. Verma was required to recuse herself from the decision to grant Kentucky its waiver.
After Republicans in Congress failed to repeal Obamacare last summer, they began chipping away at it, including ending the individual mandate as part of the GOP tax overhaul. Now the battle is moving to the states, where Republican governors and GOP-held statehouses are looking for ways to limit spending on social programs and balance their budgets. Nine other states, including Arizona, Indiana, and Wisconsin, have asked Washington to let them add work requirements to Medicaid.

Conservatives have long argued that social programs can discourage work. In 1996 a welfare reform bill passed by the Republican-controlled Congress and signed by President Bill Clinton added work requirements to cash welfare benefits. That was followed by a big drop in the number of recipients. The effect on poverty was less clear.
The connection between Medicaid and work incentives is tenuous at best, says Jeff Grogger, an urban policy professor at the University of Chicago, because the program doesn't give people funds they'd need to pay rent or buy food. "It's hard to see how Medicaid is really substituting for work," he says. "If we had fewer sick people and fewer poor people, we'd have fewer people on Medicaid."
Advocacy groups such as the National Health Law Program may challenge the Kentucky requirements in court. In the event that Bevin loses a potential legal battle, he's already said he will terminate Kentucky's Medicaid expansion, issuing an executive order on Jan. 12 promising to strip coverage from hundreds of thousands.
Starting in July, about 350,000 of Kentucky's Medicaid recipients will be subject to work requirements. These are people who aren't disabled, "medically frail," or in school. Kentucky estimates that about half of them are already working. They can satisfy the requirement by spending 80 hours a month either working, volunteering, or going to job training. Recipients will also have to tell the state within 10 days about changes in income that affect their eligibility for Medicaid. Failure to do any of this could disqualify them. Bevin says the program shouldn't be hard to comply with and that someone like Abell shouldn't be at risk of losing coverage. "This isn't meant to be a gotcha," he says.
Bevin argues that even well-intentioned government programs create dependency and that his work provision will promote health. "If you expect nothing of a person, you rob that person of the dignity associated with doing for themselves," he says. Yet the data show very few Medicaid recipients are idle. Among nondisabled adults, most are working, taking care of family, sick, or in school, according to an analysis of census data by the Kaiser Family Foundation. Just 7 percent of recipients are out of work and unoccupied.

Barbara Casper, a doctor at a University of Louisville clinic who's been treating low-income patients in Kentucky for two decades, says the program will create another layer of bureaucracy for her patients to navigate, something they already have a hard time doing. And it will increase the risk of paperwork mistakes. The result will be that more people will end up uninsured rather than finding a job. "This whole program is geared toward punishing people for being poor," she says.
Gina Evans, 42, has been on Medicaid since 2014. Her coverage has lapsed twice—once, in 2016, after she forgot to submit some paperwork, and again last year. The second cancellation was never explained. "I got a letter in the mail saying my insurance was terminated," she says. She went without medicine for her recurring migraines for six months. If she can't see her doctor, Evans goes to the emergency room. Bureaucratic snags are common, says Debbie Farinelli, who works at the New Life Day Center in Lexington, a church-backed homeless center where Evans volunteers. Farinelli, 59, is also on Medicaid and saw her coverage canceled last October, even though she says she had until Nov. 28 to submit a pay stub to verify her eligibility. Additional requirements for Kentucky's poor will only make the problem worse, she says: "I don't think the right hand knows what the left hand is doing."
BOTTOM LINE -
This summer, Kentucky will begin requiring some of its 1.3 million Medicaid recipients to prove they are working. The move could save the state $2.4 billion over five years.
Before it's here, it's on the Bloomberg Terminal.
LEARN MORE