business
JPMorgan Boosts Dimon's Pay 5.4% to $29.5 Million for 2017
By , , and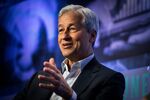 JPMorgan Chase & Co. Chief Executive Officer Jamie Dimon received $29.5 million in total compensation for his work in 2017, an increase of 5.4 percent from a year earlier.
Dimon's pay included $23 million of restricted stock tied to performance, a $5 million cash bonus and $1.5 million salary, the New York-based bank said Thursday in a regulatory filing. It was the second-biggest package the 61-year-old billionaire banker has received since he became CEO in 2005, only trailing his $49.9 million of reported compensation for 2007.
Last year, JMorgan put more distance between itself and a spate of legal and regulatory woes that had stung the biggest U.S. bank in the wake of the financial crisis. The firm posted record adjusted profit of $26.5 billion for 2017 and its shares rose 24 percent, outpacing the 20 percent advance for the 67-company S&P 500 Financials Index.
Dimon's deputies also received raises, JPMorgan spokesman Joe Evangelisti said in an email:
Daniel Pinto, head of investment banking: $21 million, 11 percent increase.
Gordon Smith, head of consumer banking: $20 million, 5.3 percent increase.
Mary Callahan Erdoes, CEO of asset management: $19.5 million, 2.6 percent increase.
Marianne Lake, chief financial officer: $13.5 million, 8 percent increase.
Doug Petno, head of commercial banking: $12 million, 9.1 percent increase.
Before it's here, it's on the Bloomberg Terminal.
LEARN MORE