Japan Dumping Treasuries Puts Spotlight on Euro-Area Debt
By and
Rising supply, hedging costs dim U.S. allure for Asian buyers

Booming economy, outperforming debt enhance Europe's appeal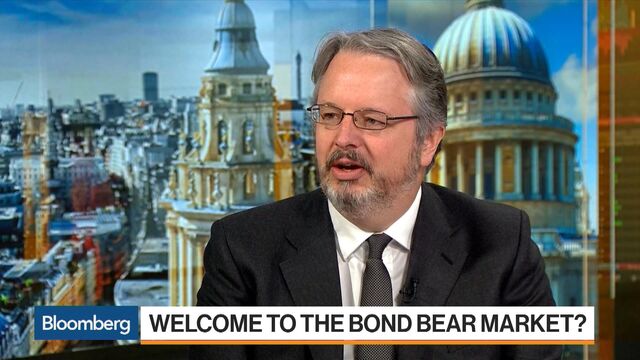 Sovereign issuers that are selling bonds in euros at a record pace could well be finding some of the world's most prolific buyers ready to pounce.
Investors in Japan and China are shunning U.S. Treasuries, and the conditions are ripe for that cash to find a home in Europe. Early signs of a shift may already be visible: Belgium sold 16 percent of a new deal to Asia this week, compared to just 1 percent a year ago.

A widening deficit may double U.S. government bond supply this year, while tax cuts threaten to curb corporate demand for Treasuries. At the same time, Europe's economy is booming, the euro is the best-performing currency in the Group of 10 in the past 12 months, and the region's central bank is still buying bonds.
Throw in dollar-yen hedging costs, calculated using currency forwards, near the highest level since the financial crisis, and the stars are aligning for Asian money to flow to Europe. Japanese investors dumped U.S. government obligations for a second straight month in November while snapping up more German and French notes, data published last Friday show.
Read more: Japanese Shop for Bonds in Europe as Treasuries Get Costlier
"Rising currency-hedging costs could drive more Asians out of U.S. Treasuries and into European bonds," said Ben Emons, chief economist at Intellectus Partners LLC. "It's certainly true the market is worried about more supply in the U.S."

China and Japan's combined share of Treasuries fell to approximately 36 percent of all foreign-held U.S. government debt in November, the lowest level in about 18 years. China is the biggest foreign holder of U.S. bonds.
Outperformance
Euro-area government bonds with lower yields continue to outperform U.S. Treasuries. America's benchmark 10-year yield rose to the highest level in more than three years on Friday, widening the gap to European bonds even further.
A steeper German yield curve helps compensate for lower absolute yields in the euro area for Asian investors after taking into account their funding costs, according to Peter Tchir, the head of macro strategy at Academy Securities Inc.
To be sure, Asian demand for U.S. securities -- the most liquid market in the world -- is largely determined by currency and trade policies as well as technical drivers like hedging costs.
"Lightening up on U.S. Treasuries given the deficit-busting tax cut and the other potentially negative news? Sure," said Aaron Kohli, an interest-rate strategist at BMO Capital Markets in New York. "But these things have rarely left a mark in the U.S. Treasury market in the long-run."
— With assistance by Chikafumi Hodo, and Daisuke Sakai
Before it's here, it's on the Bloomberg Terminal.
LEARN MORE