China Posts First Full-Year Growth Pickup Since 2010
Bloomberg News
Economy 'breezing past potential speed bumps': HSBC's Neumann

Global trade supporting demand as Beijing tackles debt risks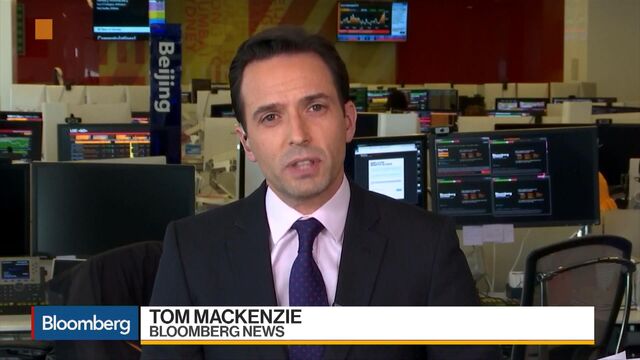 China's economy sealed its first full-year acceleration since 2010, underpinning global growth and giving authorities more room to purge excessive borrowing.
Gross domestic product increased 6.8 percent in the fourth quarter from a year earlier, versus 6.7 percent seen in Bloomberg survey
Full-year growth picked up to 6.9 percent from 6.7 percent in 2016
A reflation of the industrial sector and a global upswing that's boosting exports are providing room for President Xi Jinping to tackle debt risks, one of Beijing's top goals for the coming three years. With consumer inflation still contained and the currency firm, the central bank has been able to tighten the screws in some areas without benchmark interest rate increases, though a minority of economists are beginning to anticipate such a move.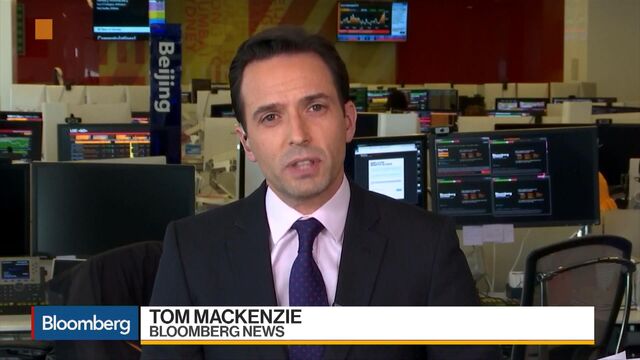 "The economy is cruising along at impressive speed, breezing past potential speed bumps with apparent ease," said Frederic Neumann, co-head of Asian economics research at HSBC Holdings Plc in Hong Kong. "If China keeps up its current speed, the next stop will be inflation. Some cooling of growth momentum at the start of 2018 would thus be welcome to curtail price pressures."
What Our Economists Say...
"Turnaround is too strong a word," said Tom Orlik, Bloomberg chief Asia economist in Beijing. "There's still a mountain of debt and major structural challenges to address. But compared to hard-landing fears in early 2016, and expectations of a pronounced slowdown at the start of the year, China's economy outperformed in 2017."
In a year that began with fears of a trade war with a newly elected Donald Trump, exports turned back into a growth engine for the world's factory floor. The contribution of net external trade to growth improved by around 0.4 percentage point in real terms last year, "more than fully explaining the pick-up" in GDP growth, said Louis Kuijs, head of Asia economics at Oxford Economics in Hong Kong.

Reflation was also key to boosting company profits and raising their ability to service debt. The GDP deflator for the full year, a gauge of economy-wide inflation, came in at 4.33 percentage points, while nominal growth accelerated to 11.2 percent. GDP in those terms grew to 82.7 trillion yuan ($12.9 trillion) -- up 8.4 trillion yuan in the year.
"Another Indonesia created in one year!" said Jim O'Neill, former chief economist at Goldman Sachs Group Inc. "The nominal GDP size confirms China has diminished the previous deflation risk and silly comparisons with 1980s Japan were just that, silly."
The remarkable stability of headline GDP is, however, also "a source of disquiet," said Bloomberg's Orlik, raising questions about politicization of the figures. Recent revelations of fudged provincial data have provided reminders of the problem, while officials' willingness to air the concerns shows an intent to stamp out the practice.
If there was one black spot in Thursday's data, it was a deceleration in retail spending at the end of the year.
Retail sales rose 9.4% in December on year, vs 10.2% forecast
Industrial production rose 6.2% last month, versus a projected 6.1%  
Fixed-asset investment climbed 7.2% for the year, the least since 1999
In housing, data released Thursday showed prices rose in the most cities in six months even as the government prolonged its campaign to curb speculation. New-home prices, excluding government-subsidized housing, in December rose in 57 of 70 cities tracked by the government, compared with 50 in November, the National Bureau of Statistics said.
China added over 13 million new jobs in 2017, NBS head Ning Jizhe said at a briefing in Beijing. The surveyed unemployment rate was 4.98 percent at the end of December.
Based on Bloomberg Economics' initial estimate, the debt-to-GDP ratio edged up to 264 percent from 259 percent in 2016 – a markedly slower pace of increase.
"With growth being strong, the government may feel comfortable to focus more on reducing major risks including financial sector risks," said Wang Tao, head of China economic research at UBS Group AG in Hong Kong. "We expect 2018 GDP growth to moderate."
— With assistance by Miao Han, Kevin Hamlin, Tian Chen, Yinan Zhao, and Jeff Kearns
Before it's here, it's on the Bloomberg Terminal.
LEARN MORE