markets
BP to Help Iraq Boost Oil Flow at Fields Retaken From Kurds
Khalid Al-Ansary, Kadhim Ajrash and Bruce Stanley
Iraq plans to boost Kirkuk capacity to as much as 750,000 b/d

Government recaptured oil-rich Kirkuk from Kurds in October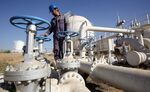 BP Plc agreed to help increase crude production at northern Iraq's Kirkuk fields as the government pushes to restore output and exporting capacity after recapturing the oil-rich region from semi-autonomous Kurdish forces in October.
Iraqi and BP officials signed an agreement in Kirkuk city on Thursday to study ways of boosting capacity at the fields to 700,000 to 750,000 barrels a day. The deposits, which include the country's oldest field, currently can pump about 450,000 barrels a day.
The London-based oil giant is returning to a region where it has a long history. Kirkuk's oil was discovered by the forebears of BP and France's Total SA in 1927. BP provided technical assistance to Iraq's state-run North Oil Co. until 2015, when work halted due to fighting between government troops and Islamic State militants. Oil Minister Jabbar al-Luaibi had asked BP to accelerate plans to develop Kirkuk's fields, the oil ministry said in October.
Under the agreement, BP will perform surveys and studies necessary to develop Kirkuk's fields and boost their output to as much as 750,000 barrels day, according to an oil ministry statement citing Michael Townshend, the head of BP's Middle East business.
'Ambitious Plans'
"North Oil must restore its glory and its output averages to 1.5 million barrels a day," al-Luaibi said at the signing ceremony. "We have an ambitious plan to activate the company."
Kirkuk's fields currently pump 140,000 to 150,000 barrels a day, all of it going to local refineries, according a person familiar with the situation. Output has stopped at two of the deposits, Bai Hassan and Avana, the person said, speaking on condition of anonymity because the matter isn't public.
Iraq pumps most of its 4.42 million barrels a day from fields in the south and ships it from the Persian Gulf port of Basra. The country, the second-biggest producer of the Organization of Petroleum Exporting Countries, is limited to pumping 4.351 million barrels a day under OPEC's global cuts agreement.
Kirkuk's oil lies in one of the Middle East's great fields. Kirkuk's oldest well, Baba Gurgur, earned its name -- the Kurdish term for "Father of Fire" -- for the flames fed by hydrocarbons oozing to the surface in a nearby pit. Local lore has it that the fire has been burning for centuries.
New Pipeline
Kurdish forces seized the Kirkuk territory in 2014 to ward off Islamic State. The Kurds saw Kirkuk's oil as a financial lifeline for a future state of their own, a goal fiercely opposed by Iraq's central government. After the Kurds held a referendum for independence in September, Baghdad moved a month later to reassert control of Kirkuk's oil deposits.
As part of its effort to revive northern oil fields and exports, the government sought bids last month from companies to build an export pipeline from Kirkuk to Turkey. The link would run parallel to an older link that served as Iraq's main conduit for oil exports from the north until the conflict with Islamic State forced the network to shut down.
Since then, Baghdad has exported its northern oil to Turkey through a Kurd-run pipeline in Iraq's Kurdish region. A new link built and controlled by the federal government would enable Baghdad once again to ship northern crude without needing to depend on the Kurds.
(
Updates with ministry comment in fourth paragraph; current output in sixth.
)
Before it's here, it's on the Bloomberg Terminal.
LEARN MORE