Economics
Saudi Arabia Closes the World's Ritziest Prison
The Ritz-Carlton in Riyadh is taking bookings again, but the kingdom is left divided over the repercussions.
By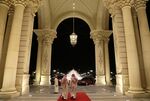 The Ritz-Carlton in Riyadh is due to resume life as a five-star hotel next month, but the purge that turned it into the world's most luxurious prison still carries risks for Saudi Arabia's young leader.
Crown Prince Mohammed bin Salman, 32, held relatives and scores of others from his anti-corruption sweep in the 492-room establishment since November. Some are still there, while others are thought to be abroad, under house arrest or banned from traveling. The Ritz website is now taking reservations from Feb. 14, signaling an end to one chapter of a campaign whose goal is to recoup as much as $100 billion of allegedly misappropriated money.
The detentions are part of Prince Mohammed's drive to transform Saudi society and the economy and cement his power. At the same time, they have strained ties within the royal family, once the pillar of Saudi stability, and raised questions over the increasingly authoritarian heir's intentions amid the prospect of facing some new powerful enemies.
"Prince Mohammed runs a risk that former detainees may seek to coalesce into small groups to undermine further reforms and his leadership," said Theodore Karasik, senior adviser at Gulf State Analytics in Washington. "He will have created enemies with some royal family members despite their pledges of loyalty."

At the last publicly disclosed count in early December, there were 159 detainees in the Ritz, though some have been released since then. The Saudi authorities said they want financial settlements in exchange for their freedom, and pitched the campaign as a much-needed break from corrupt business practices. No charges have been made public.
Saudi Arabia's attorney general, Sheikh Saud Al Mojeb, said that talks to reach settlement agreements with the remaining people at the Ritz could conclude in a few weeks. The Jeddah-based Okaz newspaper reported on Monday that some detainees were released in the last two days. More people are being freed this week, the newspaper reported, citing people it didn't identify.
Prince Alwaleed bin Talal, with a net worth of about $18 billion and the public face of Saudi Arabia to many foreign investors, has been the most high-profile inmate.
He has been negotiating his release, though is balking at demands that could force him to relinquish control of Kingdom Holding Co. The company owns stakes in giants such as Citigroup Inc. and Twitter Inc. Kingdom Holding didn't respond to a request for comment.

Others have capitulated and been brought back into the fold. Prince Miteb bin Abdullah, a former head of the national guard and the son of former King Abdullah, was said to have paid $1 billion for his release. He was recently photographed attending a horse race with Prince Mohammed bin Salman.
"At this point, it's not clear what constitutes corruption, what the penalties are for corruption, what evidence there is and what constitutes evidence," said James Dorsey, a Middle East specialist at Singapore's Nanyang Technological University. "What one sees is fly-by-night arrests on unknown grounds during which pressure is increased until the detainee accedes to financial and restrictive terms dictated to him."
The crown prince, who leads the anti-corruption commission, has been sweeping aside any opposition to his plans to reconfigure the country and soften some of the hardline Saudi conservatism that's underpinned it for decades. Before the government declared it would lift the ban on female drivers last year, security services detained independent clerics and other critical figures.
"Whatever one thinks of the grounds for purges of princes and elites, there is a rationale for these actions," said Jim Krane, an academic specializing in the Middle East at Rice University's Baker Institute for Public Policy. "The al-Saud family is so large and so deeply institutionalized that Saudi Arabia looks more like a one-party state than a traditional monarchy."
QuicktakeWho Is The Saudi Crown Prince?
The anti-graft drive, though, has unsettled Saudi Arabia and raises the specter of instability in the world's biggest oil exporter. Some Saudi citizens, who are bearing the brunt of rising utility costs and a new consumer tax introduced this year, have criticized the kingdom's elite for being allowed to act with impunity.

Prince Mohammed has bet on public support for his efforts to reduce the role of the Saudi royal family. Saudi authorities have said that no one is above the law.
The crackdown spread fear among wealthy residents of Riyadh. In the early weeks of the campaign, Saudis expressed concern in private about being caught up in it. They knew friends detained at the hotel and others who got summoned for questioning.
At the Ritz, with its 600-year-old olive trees in Moorish-style courtyards, spa and ornate gardens, unsubstantiated rumors circulated. They included that some of the detainees had been tortured, the doors of hotel rooms were left open to prevent suicide attempts and others were treated with respect and able to get room service.
When the latest coterie of guests starts arriving next month, they will at least be able to decide when they leave. Bookings can be made for 2,489 riyals ($664) a night, according to the hotel's website.
"Mohammed bin Salman would have been better off introducing structural rather than an arbitrary punitive process that creates a regime of intimidation and fear," said Dorsey in Singapore. "In this situation, it's hard to imagine that the many foes that Bin Salman must have created are not biding their time and waiting for an opportunity."
— With assistance by Sarah Algethami, and Zainab Fattah
Before it's here, it's on the Bloomberg Terminal.
LEARN MORE