Adventure
Divers Have Discovered the World's Longest Underwater Cave
Scuba divers, your next big adventure awaits outside Tulum, Mexico.
By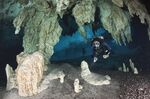 When exploring new corners of the globe, the common wisdom is to "dive deep," but rarely is that advice literal. Now it is: A team of divers in eastern Mexico have discovered what's believed to be the longest underwater cave in the world, just three miles west of the white sand beaches of Tulum.
The findings confirm that the vast, 164-mile-long Sistema Sac Actun, a waterlogged system of natural sinkholes, or cenotes, is actually connected to the nearby 52-mile-long Dos Ojos system, bringing the total length of the caves to a winding 216 miles. That's more than the combined height of 24 Mount Everests stacked on top of one another. The warren of caves also stretches downward, to a depth of more than 332 feet, making parts of it deeper than London's Big Ben is tall.
More exciting than the otherworldly underwater photographs coming out of the caves is the possibility of deciphering the secrets of the Maya civilization, which ruled this region before Spain's 16th century conquests of Central and South American. Cenotes were often holy sites in Mayan culture, thought to be portals to the gods. Divers have unearthed religious artifacts and eerily perfect human skeletons in many of them, leading researchers at the Gran Acuifero Maya—a project dedicated to the study and preservation of these caves—to believe they were used for sacrifices.
"It allows us to appreciate much more clearly how the rituals, the pilgrimage sites, and ultimately the great pre-Hispanic settlements that we know emerged," underwater archeologist and project director Guillermo de Anda told Reuters.
It's yet another reason to book a plane ticket to Tulum, which has gained popularity not just for its pristine beaches, eye-popping coral reefs, and high-end pilates retreats aimed at the female corporate set, but also a varied and impressive culinary scene.
In recent years, Tulum has attracted luminaries that include chef René Redzepi, who opened a pop-up version of his Copenhagen restaurant Noma there in 2016. It remains a luxurious escape for lovers of creature comforts, whether they choose to stay in a ritzy treehouse with seaside views or an art-forward hotel brimming with original works by Picasso, Warhol, and Botero.
Sistema Sac Actun and Dos Ojos were already prime scuba diving destinations, but this revelation certainly means the combined system deserves a designation as one of the most extreme scuba dives in the world. It's a sliver of good news for the broader Quintana Roo region, which this past summer was included in a U.S. State Department advisory warning Americans about travel to Mexico in light of rising homicide rates. Here's hoping it's a harbinger of a bright and shiny future.
Before it's here, it's on the Bloomberg Terminal.
LEARN MORE