The Leader of Italy's Next Government May Not Even Be on the Ballot
By
Prime Minister Gentiloni could stay on with parliament divided

Surveys show premier is most popular politician in Italy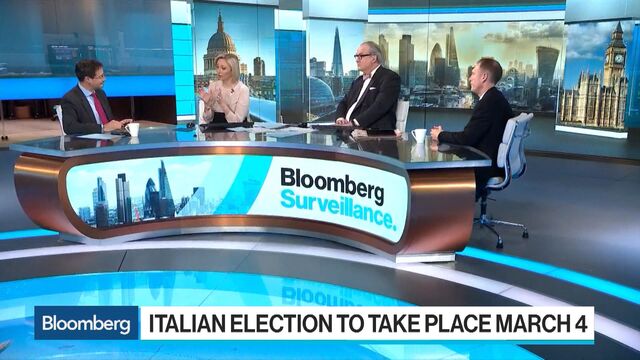 With polls showing Italy could be paralyzed by a divided parliament after its March election, stand-in Prime Minister Paolo Gentiloni may be set for an extended run in office.
Gentiloni, 63, was only meant to be a stop-gap when he took office in December 2016. His predecessor Matteo Renzi had quit after a referendum defeat, but retained control of Gentiloni's governing Democratic Party, betting that economic recovery would help him return to power this year. Renzi is the PD candidate on March 4 while Gentiloni won't even be on the ballot.
But the latest poll by Ixe shows the Democrats trailing on 23 percent, throwing Renzi's plans into question. Former Prime Minister Silvio Berlusconi's Forza Italia and its two right-wing allies are set to win about 34 percent of the vote while the radical Five Star Movement is projected to be the biggest single party at 28 percent. With Berlusconi barred from public office and Five Star ruling out coalition deals, Gentiloni, the most popular politician in Italy, could be the compromise candidate.
"A grand coalition of sorts or an endless Gentiloni government would satisfy voters afraid of anti-establishment movements," Rosamaria Bitetti, lecturer on public policy at Rome's Luiss University said in a phone interview. "That is a possibility if nobody has the votes to govern."
Why Much Is at Stake in Italy's March 4 Elections: QuickTake Q&A
Under the Italian system, it's up to President Sergio Mattarella to decide whom he'll ask to form a government after consulting with the leaders of the main parties. He is under no obligation to hand a mandate to the biggest party, and will try to establish if a viable majority is possible.
Gentiloni's Credibility
The latest polls suggest that not even a so-called grand coalition of the Democrats and Berlusconi's Forza Italia will be able to form a majority. In that scenario, Gentiloni could stay on until another round of elections, boosted by his personal poll ratings. Ixe's latest survey gives him 35 percent support among voters, 8 percentage points more than Five Star candidate Luigi Di Maio in second place.
"A centrist or a broad coalition led by technocrats or Prime Minister Paolo Gentiloni, whose popularity has risen during his term, are the most likely outcomes," said Matteo Ramenghi, chief investment officer at UBS Group AG's wealth management unit in Italy.
Gentiloni would also offer Italy credibility with investors watching for signs of political instability. The spread between Italy's 10-year bonds and German bunds reached a two-month high on Jan. 2 and only Greece pays more to borrow among euro-area governments.

French President Emmanuel Macron endorsed Gentiloni on a visit to Rome this month -- despite insisting he'd stay out of the election campaign. "What a joy it has been to work with Paolo," Macron said. "I hope we can continue the work that we have started."
The mild-mannered Gentiloni has already confounded many with his staying power. When he took over, TV comedian Maurizio Crozza portrayed him as remote-controlled by Renzi through a special zapping device and later as a victim of his predecessor's abuse.
Yet Gentiloni is no political novice. He was a minister in Romano Prodi's government between 2006 and 2008 before serving as foreign minister under Renzi. During his time in power he has kept most of the original Renzi government in place and has calmly steered the country through a banking crisis while keeping the fragile economic recovery alive.
Keeping Gentiloni in office could help contain "concerns over the risk of a sudden political stability cliff," Fabio Fois, senior European economist at Barclays wrote last month.
— With assistance by Marco Bertacche, Giovanni Salzano, John Follain, and Chiara Remondini
Before it's here, it's on the Bloomberg Terminal.
LEARN MORE