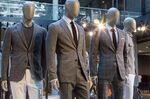 The unlikely tailor is starting to iron the wrinkles out of that Hugo Boss suit.
The maker of sharp suits for the financial classes surprised investors on Tuesday with better-than-expected growth in same-store sales during the fourth quarter. Hugo Boss AG's sales from outlets open at least a year climbed 7 percent, with the U.S. and mainland China posting even faster growth.
That's no mean feat for a company more focused on apparel than in-demand accessories, and for one that operates in the affordable rather than high-end luxury market. It's a far cry from two years ago, when Boss delivered a severe profit warning and parted company with its CEO.
Mark Langer, the finance chief who stepped up to the CEO role after that debacle, is doing all the right things: culling peripheral brands, investing online, closing stores and refocusing on its core customer.
So far, the boost in sales hasn't been matched by a lift in profit. Full-year earnings before interest, tax, depreciation and amortization as well as one-time items will only be in line with 2016's figure, according to the company.
That looks disappointing given the sales momentum. But it's in line with Langer's predictions when he delivered his strategic blueprint in November 2016. Then, he cautioned that 2017 would be a year of stabilization before a return to profit growth in 2018. After all, Boss's repositioning requires investment, particularly in developing its online business.
Shares of Hugo Boss are up by almost 60 percent since their nadir in July 2016, thanks to Langer's actions and the broader recovery in the luxury industry, including in the important Chinese market.
The shares trade at just under 20 times estimated earnings, less than the Bloomberg Intelligence Luxury Peer Group's multiple of almost 22 times. To close that gap, Langer will need to show he can lift profit.
That oughtn't to be a problem. The growth in sales suggests he's putting the right products in stores, something that should reduce the need to offer discounts. And investment in the online business should tail off in time.
The risk, though, is that Boss's well-heeled rather than super-wealthy customers are more vulnerable to any future economic shocks. Even affordable luxury has its price.
Before it's here, it's on the Bloomberg Terminal.
LEARN MORE