politics
Germany's Social Democrats Show Divide on Alliance With Merkel
By
Berlin, Saxony-Anhalt oppose coalition; Brandenburg in favor

SPD convention to hold all-or-nothing vote on coalition Sunday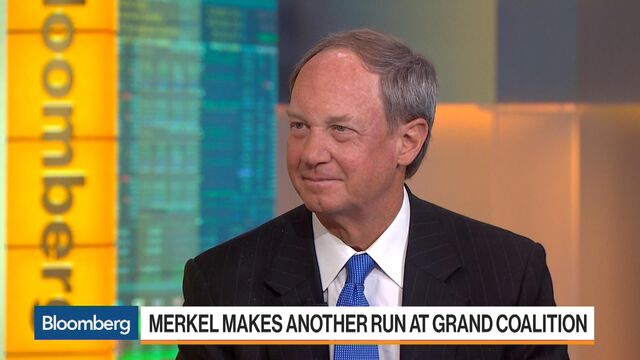 Germany's Social Democrats began taking sides on forming a government with Angela Merkel as the party leadership stepped up efforts to convince doubters of the need for a rerun of their grand coalition.
SPD leader Martin Schulz continued his tour of key Social Democratic Party regions on Tuesday to sell the preliminary deal reached last week with Merkel's Christian Democrat-led bloc. The SPD will hold a party congress in Bonn this weekend, where 600 delegates from across Germany will vote on whether to pursue another coalition or return to opposition.
Initial positions taken by smaller regional branches of the SPD showed the party's divisions. The SPD's Berlin chapter joined leaders in Saxony-Anhalt in rejecting another government with the chancellor, while party leaders in Brandenburg state backed the coalition.
Sunday's SPD convention yes-or-no vote threatens to sink a rerun of Merkel's coalition of the past four years before a common program for government is even negotiated. Still, the vote will be swayed by larger states such as North Rhine-Westphalia which sends almost a quarter of all delegates to the conference.
The SPD's Berlin chapter voted 21-8 late Monday against starting negotiations with Merkel. The euro weakened early on Tuesday after the German capital joined Saxony-Anhalt in opposing the proposed coalition, based on a policy document agreed on with Merkel and her allies.
Berlin has 23 delegates to the congress, Saxony-Anhalt six and Brandenburg 10; North-Rhine Westphalia has 144 delegates.
— With assistance by Birgit Jennen
Before it's here, it's on the Bloomberg Terminal.
LEARN MORE