Crypto-Linked Stocks Return to Earth as Bitcoin, Ripple Fall
By
Riot Blockchain, Overstock.com, DPW, Kodak all trade lower

Bitcoin slumped as much as 20% while Ripple fell 33%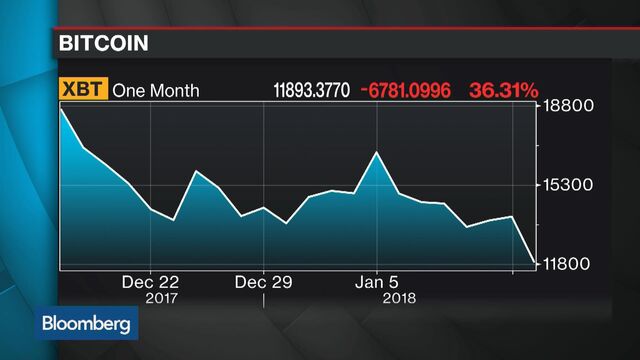 Companies that have seen their fortunes -- and share prices -- soar with the crypto-craze are now facing a little bit of a reality check.
As Bitcoin slumped as much as 20 percent and Ripple tumbled as much as 33 percent, firms that touted their links to the burgeoning blockchain industry, including Riot Blockchain Inc., Overstock.com Inc. and DPW Holdings Inc., saw their shares tumble on Tuesday.

Cryptocurrencies fell today as investors speculated about the prospect of regulatory crackdowns for the decentralized market.
DPW Holdings is one of the biggest peripheral losers from the slide so far, down as much as 21 percent in early U.S. trading. The company's Coolisys Technologies unit is working on advanced technology power systems for digital mining of cryptocurrencies. Riot Blockchain, which rebranded as a blockchain company in October, fell as much as 13 percent while Overstock.com, exposed to the craze through a subsidiary called Medici Ventures, fell 8 percent.
Eastman Kodak Co., which saw its shares jump almost 200 percent last week after the company said it's working with WENN Digital to offer a blockchain-based service for paying photographers, declined as much as 13 percent, while Metropolitan Bank -- the issuing bank for a bitcoin debit card called Shift Card -- is down 2.7 percent.
Still, not all bitcoin-linked companies are falling. Long Blockchain Corp., the unprofitable iced-tea company formerly known as Long Island Iced Tea Corp., is little changed after earlier rising as much as 9.2 percent.
For more on cryptocurrencies, check out the Decrypted podcast:
Other stocks to watch during the day include semiconductor stocks Advanced Micro Devices Inc. and Nvidia Corp., which have also benefited from the mania for digital coins.
Before it's here, it's on the Bloomberg Terminal.
LEARN MORE