markets
Behind Roaring Stocks Are Profit Upgrades of Unprecedented Size
By
Yardeni sees S&P 500 reaching 3,330 in earnings-led 'meltup'

Morgan Stanley warns over peaking growth amid equity euphoria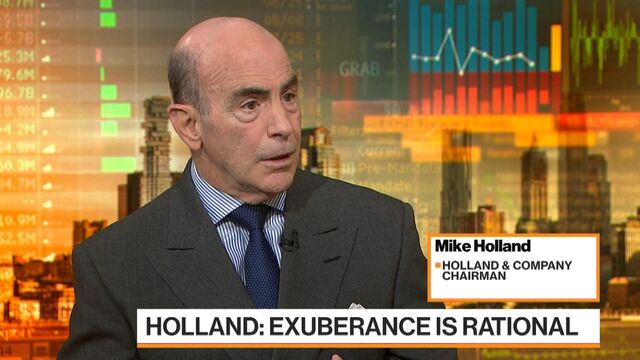 The rally in the equity market is running hot by almost every standard, from sentiment to momentum signals. Yet anyone worrying about a meltdown can take comfort in an equally strong trend in corporate earnings.
Thanks to the tax cut passed into law in December, analysts have been raising their estimates at a rate not seen in at least six years. Forecasts for 2018 profit from companies in the S&P 500 Index increased 3.5 percent over the past four weeks to $151 a share, the fastest pace over comparable periods in Bloomberg data that go back to 2012.

Stocks are off to the best start of a year since 2003 as the S&P 500 jumped more than 4 percent, spurring predictions that stocks are in the midst of a climatic surge sometimes known as a meltup. While such rapidly rising prices often raise the prospects for reversals, this time may be different, according to Ed Yardeni, a strategist at his namesake research firm.
"I'm not a big fan of meltups. They tend to be followed by meltdowns, which tend to be hard to predict," Yardeni said in a note. "The meltdown scenario is somewhat less worrisome for now, since the meltup in stock prices in recent weeks has been driven to a large extent by a meltup in analysts' consensus expectations for earnings."

He forecast the S&P 500 would reach 3,330 under a meltup scenario. The benchmark index climbed 0.1 percent as of 1:35 p.m. in New York, briefly surpassing 2,800 for the first time, as tax cuts prompted companies such as Citigroup Inc. and UnitedHealth Group Inc. to boost shareholder returns or raise 2018 forecasts.
Analysts are rushing to lift their estimates as December's tax overhaul lowers the corporate tax rate to 21 percent from 35 percent. The forecasters normally trim outlooks heading into a new year. This time, their estimates for 2019 also increased, rising to $166.6 a share from $160.9 a month ago.
To Morgan Stanley strategist Michael J. Wilson, while the bigger-than-expected cut in taxes may spur optimism that drives the S&P 500 to 3,000, it makes the elevated level of growth hard to sustain. As companies raise wages for workers or pass on the benefit to consumers, profit margins may suffer, he said.
"We question the sustainability of the rate of change on organic growth as our leading earnings indicator shows a potential peak in growth post 1Q 2018," he said. "Further, certain tax offsets and late cycle behavior may pressure EBIT margins, resulting in lower quality growth."
For now, investors are taking heart in the quick boost to the bottom line, particularly as stocks look cheaper when viewed relative to future earnings. At 18.8 times earnings, the S&P 500's valuation is down from a peak of 20 reached in December despite a rally in prices. 
"We may be experiencing an extremely unusual earnings-led meltup," Yardeni said. "If so, it is more likely to be sustainable than the run-of-the-mill P/E-led meltup, as long as it doesn't morph into one."
— With assistance by Wendy Soong
Before it's here, it's on the Bloomberg Terminal.
LEARN MORE