All Senate Democrats Endorse Resolution on Net Neutrality Change
By
Measure to undo Republican policy aimed at fall election

Vote will force public choice on Republicans, Schumer says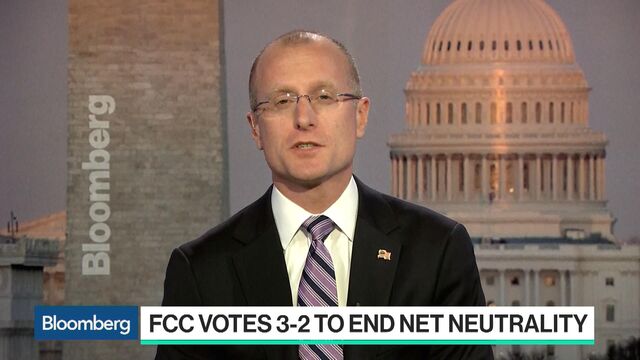 All 49 senators who caucus with the Democrats have signed on to a measure to undo the Republican-led gutting of Obama-era net neutrality rules, a clear signal that they have more than internet policy in mind as they move to force a vote.
They're looking forward to wielding the issue in the fall elections.
Senator Ed Markey's resolution to has attracted the entire caucus as sponsors, the Massachusetts Democrat said in a news release Tuesday. The effort also has support from Maine Republican Susan Collins, leaving it one shy of the number needed to pass, but with plenty more than the 30-vote threshold needed to compel Senate action.
How Democrats Can Win by Losing on Net Neutrality: QuickTake Q&A
"When we force a vote on this bill, Republicans in Congress will -- for the first time -- have the opportunity to right the administration's wrong and show the American people whose side they're on," New York Senator Chuck Schumer, the minority leader, said in a tweet.
The measure can pass the Senate with a simple majority. Then it would need to pass the House, where rules give Republican leadership tighter control and passage seems unlikely. In addition, Trump could veto it.
Schumer cast the choice as between large internet service providers, a group including Comcast Corp. and AT&T Inc., or "consumers, entrepreneurs, and small business owners."
The net neutrality rule barred broadband providers including Comcast, AT&T and Verizon Communications Inc. that control airwaves and lines into homes and businesses from blocking or slowing web traffic. The Federal Communications Commission -- led by Republican Chairman Ajit Pai who was chosen by President Donald Trump -- voted in December to eliminate those protections. The FCC said other agencies could police corporate behavior.
Before it's here, it's on the Bloomberg Terminal.
LEARN MORE