Ramaphosa Treads Carefully in Sidelining Zuma in South Africa
By and
ANC leader says ruling party is nation's center of power

Ramaphosa says there are no plans to 'humiliate' Zuma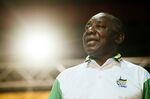 Less than a month after Cyril Ramaphosa assumed the leadership of South Africa's ruling party, he's taking a diplomatic tack as he moves to stamp his authority over Jacob Zuma's scandal-ridden government.
Ramaphosa, speaking in a television interview broadcast Sunday by Johannesburg-based eNCA, said the African National Congress has to be careful about deciding on Zuma's future as the nation's leader before he's due to step down in 2019 when general elections are scheduled. Amid rising speculation that Ramaphosa will soon replace Zuma, he said he doesn't want to "humiliate" the president and divide the nation.
While Zuma probably won't see out his full term, it's difficult to dislodge him immediately because he and his supporters are deeply entrenched in the nation's security system, the government and the party, said Ralph Mathekga, an independent political analyst based in Johannesburg
"If you have to remove him you have to dismantle a very complex system that cannot be done overnight," he said. "Ramaphosa is being diplomatic and rightfully so. He cannot come out in public and say that there are plans to remove Zuma. I think he has read situation very carefully."
Ramaphosa faces a tough task in negotiating the political changes needed to make good on his pledges to fight graft, revive a struggling economy and restore investor confidence that has been eroded under Zuma's administration. On paper, he has the tools: the former labor-union activist was the ANC's lead negotiator in talks to end apartheid in the 1990s and become one the richest black South Africans before Zuma named him as deputy president.
While Ramaphosa said in the interview that his discussions with Zuma since taking over the leadership of the ANC have gone "very, very smoothly," the issue of the party's ultimate authority over the government is non-negotiable.
"Everyone has to be receptive to the decisions of the ANC because that is the political center," Ramaphosa said. "You have got to accept the decisions and you also have to accept the direction that you are given by the ANC."
Party's Will
Already Zuma has bent to the party's will. After months of delay, he agreed last week to set up a commission of inquiry into allegations that he oversaw "state capture" by allowing members of the Gupta family to influence cabinet appointments and the award of government contracts. The ANC welcomes the decision, Ramaphosa said.
"The country is yearning to put behind all these horrible things that have to do with corruption, state capture, behind us," Ramaphosa said in the eNCA interview. "The sooner these are all done the better because we want to move on, we want to move on to a better life."
Ramaphosa also has an eye on the 2019 general elections. Under Zuma's rule, the ANC suffered its worst-ever electoral performance in municipal elections in August 2016 when it lost control of Johannesburg, the economic hub, and Pretoria, the capital.
"We want to renew our vows with our people, we want to reconnect with our people, we want to get our people excited again," Ramaphosa said. "Many of our people are saying the ANC is back. They are rekindling their love, their affection with the ANC. We are nowhere near where we should be."
Before it's here, it's on the Bloomberg Terminal.
LEARN MORE