markets
Five Things You Need to Know to Start Your Day
Get caught up on what's moving markets in Asia.
By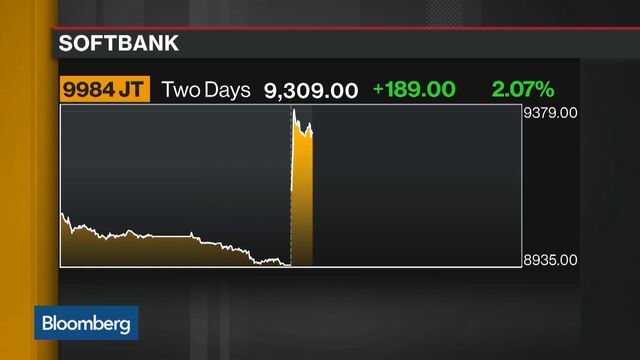 Want to receive this post in your inbox every morning? Sign up here.
North and South Korea are set to talk, a U.S. government shutdown is looking more likely and a busy weekend for an idiosyncratic deal-making billionaire. Here are some of the things people in markets are talking about.
Koreas Due to Meet 
North and South Korea are due to meet for talks on Monday about the performers from the North who will appear at the upcoming Winter Olympics in Pyeongchang. The two nations are expected to discuss practical details: how many performers the North will send and the time and venue of their performance, according to South Korea's Yonhap. On Sunday, North Korean state media reported that remarks by the South's President Moon Jae-In regarding U.S. involvement in talks between the two Koreas were "chilling the atmosphere for reconciliation." Last week, Moon's office said that Trump agreed that inter-Korean talks could lead to U.S.-North Korea negotiations for denuclearization of the Korean peninsula. On Sunday, KCNA said that "the South Korean authorities' approach to let the DPRK take part in the Winter Olympics is in the end aimed to induce the DPRK into responding to its demand, while looking far into the 'north's nuclear dismantlement' rather than the issue of the north-south ties."
U.S. Shutdown Looms
The risk of a U.S. government shutdown by the end of the week was heightened by President Donald Trump declaring a bipartisan immigration agreement "probably dead." Trump appeared ready to consider a deal with Democrats and moderate Republicans until a hard-right flank led by White House senior adviser Stephen Miller and Arkansas Senator Tom Cotton pulled him back. Democrats and Republicans spent the weekend quarreling over whether the president had described Haiti, El Salvador and African nations as "shithole countries," remarks that damaged prospects for a deal. The unraveling of the potential compromise further stokes concerns about Trump's unpredictability as a negotiator and his impulse to rapidly reverse course.
More Deals for Masayoshi Son
Japanese billionaire Masayoshi Son had a busy weekend. SoftBank may list its mobile phone unit in Tokyo and overseas this year, Nikkei reported. The listing could bring in about 2 trillion yen ($18 billion). Its Vision Fund will also invest 460 million euros ($560 million) in Auto1, valuing the German used-car sales portal at about 2.9 billion euros. About half the investment will be made by issuing new shares. In recent months, Son has taken stakes in scores of businesses engaged in activities ranging from ride-hailing and chip-making to robot-making and indoor kale-farming. His idiosyncratic deal-making has confounded admirers and detractors for years.
Stocks Set for a Good Start
Asian and Australian equity futures are pointing higher after U.S. and European shares continued to rise on Friday. Asian shares advanced on Friday as data showed Chinese exports gained in December. U.S. stocks rose to records after retail sales sparked optimism in the American economy, while JPMorgan signaled tax cuts would bolster profits. The dollar weakened the most since March, sending the euro to a three-year high and the pound to its strongest since June 2016. Oil ended the week with a fifth day of gains, leaving it at a three-year high, and gold climbed for a fifth week, marking its longest stretch of gains since mid-2016. U.S. markets are closed Monday for a holiday. 
Coming Up...
Monday's data releases in Asia include trade numbers for India and Indonesia, India's wholesale price index and a gauge of Australian inflation. China's GDP, out Thursday, will be the week's highlight in Asia: economists predict fourth-quarter growth edged down to 6.7 percent from 6.8 percent in the prior period, but that full-year growth rose to 6.8 percent from 6.7 percent — the first annual pickup since 2010, according to Bloomberg Economics. Other numbers to look out for this week include Japan's industrial production and producer price index, Australian unemployment and home loans, Singapore non-oil domestic exports and foreign reserves for Malaysia and Thailand. 
What we've been reading
This is what caught our eye over the last 24 hours.
— With assistance by Pavel Alpeyev, and Toluse Olorunnipa
Before it's here, it's on the Bloomberg Terminal.
LEARN MORE