Erdogan Accuses U.S. of Creating `Army of Terror' on Turk Border
By
Ankara denounces U.S. plans to use Kurds in new border guard

Turkish president says Afrin campaign due to start any minute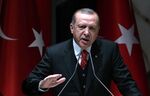 Turkish President Recep Tayyip Erdogan accused Washington of establishing an "army of terror" along the Turkish border, as his country drew closer to open confrontation with U.S.-backed Kurdish troops in neighboring Syria.
Erdogan, who regards the Kurdish fighters as affiliates of Turkish Kurds battling for autonomy in Turkey's southeast, said Monday that a Turkish offensive in the Kurdish-controlled town of Afrin in northern Syria was imminent. The spark for the campaign is a new U.S.-backed plan to turn thousands of Syrian Kurds who fought Islamic State into border guards in areas they control along Turkey's frontier. 
Turkey is afraid the Syrian Kurdish fighters' incorporation into the force will give them cover to stage attacks on Turkey. It also says it will further their aim to consolidate a single autonomous region including Afrin along the Turkish frontier, and embolden PKK separatists the Turkish military has been fighting for more than three decades. Turkish military reinforcements were moved into the Afrin area over the weekend, state-run Anadolu news agency reported. 
"Turkey will suffocate this terror army before it's born," Erdogan said. "Our preparations have been completed. The operation is due to start any moment. After that, other regions will follow."
Aggravates Strains
The impending face-off with the U.S. proxy exacerbates the already considerable strains that have tested Turkey's relations with Washington in recent years. Ankara has also been angered by the trial and conviction of a Turkish banker in the U.S. on sanctions violation charges, and Washington's non-action on its request to extradite a Pennsylvania-based Turkish preacher Erdogan accuses of instigating a failed 2016 coup.
Turkish army units fired dozens of shells toward Kurdish positions in and around Afrin on Sunday. The army also beefed up troops in the area with armored personnel carriers and tanks over the weekend, according to Anadolu.
Turkey has acted against the Syrian Kurdish forces before. It began operating in northern Syria in 2016, its participation in an international effort to defeat Islamic State dovetailing with its campaign to block the convergence of Kurdish-run regions. An earlier deployment in Idlib, to the south of Afrin, denied the Kurds access to the Mediterranean Sea -- a prized target for a planned Kurdish corridor running all the way to northern Iraq.
The U.S. backed the Kurdish fighters because it regarded them as the most effective force against Islamic State. With the war against the extremist group largely won, Turkey sees no reason for incorporating Kurdish troops into the border guard unit.
Turkey's National Security Council, which advises on military actions, is scheduled to meet on Jan. 17. Turkish officials vowed similar action on several occasions last year.
The U.S.-led coalition against Islamic State said in an emailed statement Monday that the border security force will "prohibit Islamic State freedom of movement and deny the transportation of illicit materials' so the Syrian people can establish "effective local, representative governance and reclaim their land." Ethnic composition of the force, it said, "will be relative to the areas in which they serve."
— With assistance by Asli Kandemir
Before it's here, it's on the Bloomberg Terminal.
LEARN MORE