Bitcoin Crackdown Has China Stocks Playing Down Crypto Links
Bloomberg News
China avoiding crypto-driven 'stir-frying' of shares: XuFunds

Firms include Hangzhou Sunyard and Dalian Yi Qiao Sea Cucumber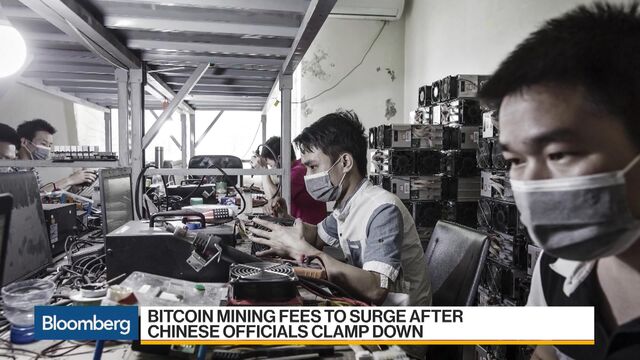 At least a dozen Chinese listed companies have issued statements this week playing down links to blockchain technology amid signs regulators are trying to limit the kind of speculative surges seen in other markets.
Hangzhou Sunyard System Engineering Co. said Thursday it's not involved in blockchain platforms, despite owning a stake in a blockchain company. Shenzhen Forms Syntron Information Co. said Wednesday a blockchain project it's undertaking has "very little contribution" to its earnings and there's "great uncertainty" on its future impact. Both companies said exchange operators had asked them to remind investors of risks.
An emerging enthusiasm for crypto-related stocks is the latest challenge to China's regulators, who've been keen to stamp out any signs of mania since an equity bubble burst in 2015. Sunyard jumped by the 10 percent daily limit before its statement, while Forms Syntron has rallied 32 percent this year.
"It's become somewhat a routine now that regulators will take measures or ask listed companies to make such clarifications whenever there's a great deal of speculative trades in the market," said Wang Chen, Shanghai-based partner with XuFunds Investment Management Co. "The regulators don't want crypto-driven 'stir-frying' of stocks to develop further."

Dalian Yi Qiao Sea Cucumber Co. said Monday a wholly-owned unit has yet to receive any payments for its services that use blockchain, so there's "great uncertainty" over its possible contribution to the company's operations. Yi Qiao has jumped 58 percent this year.
China's crypto frenzy is still relatively contained compared to the eye-watering gains seen elsewhere due to daily limits on stock moves -- usually 10 percent. Companies in the U.S., from makers of juice to sports bras, have seen their shares surge after announcing cryptocurrency ventures.
Photography and film giant Eastman Kodak Co. has jumped on the bandwagon. The company's shares more than doubled after it said Tuesday it will start an offering soon to sell its own cryptocurrency KODAKCoin. Trading volume in the stock exceeded even the biggest index exchange-traded funds in U.S. markets.
China is taking a warier approach to betting on digital currencies and blockchain technology.
How China's Stifling Bitcoin and Cryptocurrencies: QuickTake Q&A
"Blockchain technology isn't mature enough to contribute meaningfully to profits and regulators don't want any speculation on so-called concept stocks," said Dai Ming, a Shanghai-based fund manager with Hengsheng Asset Management Co. 
For more on cryptocurrencies, check out the Decrypted podcast:
— With assistance by Amanda Wang
Before it's here, it's on the Bloomberg Terminal.
LEARN MORE