Merkel Stays in the Game
Angela Merkel's marathon push for a fourth term in Germany is still on track.
By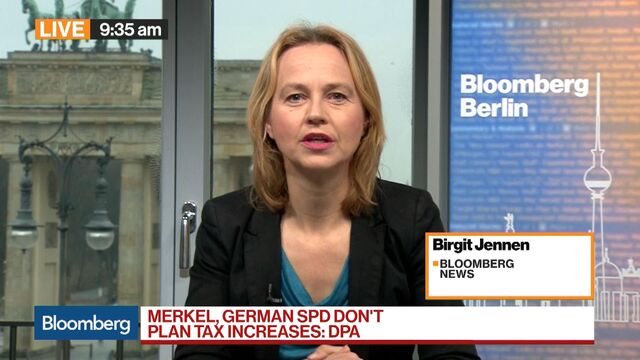 Want to receive this post in your inbox every morning? Sign up for the Balance of Power newsletter, and follow Bloomberg Politics on Twitter and Facebook for more.
Angela Merkel's marathon push for a fourth term in Germany is still on track.
Almost 16 weeks after her inconclusive election victory, the German chancellor once again demonstrated her skill in using all-night negotiations (remember the 2015 Greek bailout) to hammer out a framework agreement for another grand coalition with the Social Democrats. The next hurdle comes on Jan. 21, when the SPD membership votes on the deal.
While SPD leader Martin Schulz had sought to avoid another alliance with Merkel after his party suffered its worst result since World War II, the German president urged him to reconsider to avoid the disruption of another election.
Weeks of detailed bargaining on her new coalition still lie ahead, but the signs of progress toward a new German government will be welcomed across the European Union, with the euro surging to a three-year high.
In Paris, in particular, French President Emmanuel Macron's plans for a fresh wave of EU integration have been delayed by the deadlock in Berlin, as the window of opportunity before next year's EU parliamentary elections starts to close.

Global Headlines
'Shithole countries' | The struggle for an immigration deal has been complicated by a firestorm of outrage President Donald Trump prompted when he asked why the U.S. accepts immigrants from "shithole countries." Trump made the remark at a meeting in which he rejected a bipartisan compromise intended to help avert a government shutdown next week.
Trump's health | The president says his first physical since taking office will show he's in robust health. But since Trump isn't undergoing a psychiatric exam today, it won't stamp out fresh questions about the 71-year-old's mental fitness for office. And while he has the right to decide what information to disclose, he'll be under intense pressure to be even more transparent than past presidents. 
Putin fan seeks re-election | Czechs are voting today to decide whether to re-elect President Milos Zeman, an anti-immigrant critic of European Union policies and a supporter of Russian leader Vladimir Putin. Opinion polls show Zeman winning the most votes in the first-round ballot but too few to avoid a Jan. 26-27 runoff. His main challenger has vowed to improve ties with EU.
The U.K.'s winter of discontent | A health crisis and a bungled cabinet reshuffle later – reality has bitten Theresa May. The British prime minister wanted to prove she wasn't just 'Madam Brexit' and shed the mark of austerity that dogs her Conservative Party. But it's been tough. These four charts show why she's struggling to win the public over.
Unrest redux | Tunisia is beginning to feel like 2011, when the first Arab Spring uprising was triggered by the self immolation of a street vendor over repression and unemployment. Protests this time were sparked by a new budget set to raise taxes and cut subsidies, as hope gives way to anger over corruption and fears of a return to authoritarianism. Rallies could peak on Sunday, exactly seven years after dictator Zine El Abidine Ben Ali fled.
For more photos from the past five days, click here. And bookmark this report by Marc Champion in Kazakhstan — on the millions of dollars from a post-Soviet mine empire behind Trump's Soho partner — for weekend reading.
And finally… After a year when social networks were berated for contributing to a climate of extreme political polarization and failing to prevent Russian manipulation on their platforms in the 2016 U.S. election, Facebook Inc. said it's shifting users' news feeds back toward posts from friends and family and away from businesses and media outlets. But the change could carry a cost — people may spend less time on the site.

— With assistance by Kathleen Hunter, and Mark Williams
Before it's here, it's on the Bloomberg Terminal.
LEARN MORE