Merkel's Bid to End German Gridlock Hangs on Key SPD Vote
By , , and
Parties agree to start formal talks to revive grand coalition

Many Social Democrats wary of again being junior partner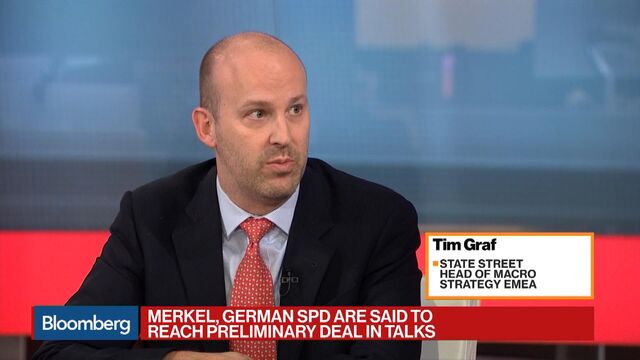 Chancellor Angela Merkel reached a preliminary accord with the Social Democrats to end Germany's political gridlock, moving closer to a fourth term and defying domestic critics who say her time is running out.
The next hurdles are a key vote by her reluctant SPD partners later this month and then finalizing the deal in another round of talks.
After a marathon of more than 24 hours of negotiations, leaders of Merkel's Christian Democratic Union, her Bavarian sister party and the Social Democrats hammered out an agreement that outlines a possible alliance. The 28-page blueprint, largely aimed at winning over wary SPD members, calls for Germany and France to bolster the European Union and respond to President Donald Trump's move to slash corporate taxes in the U.S.
"We are convinced that we need a new start for Europe," Merkel told reporters at SPD party headquarters in Berlin on Friday. "I am therefore not concerned that we will be able to find reach new solutions here, especially with France."

In addition to strengthening the EU, the parties agreed on modest middle-class tax cuts, including a phaseout of the "solidarity levy" for rebuilding ex-communist eastern Germany. In a nod to the Bavarian affiliate of Merkel's party, the plan limits refugee arrivals to 220,000 a year. 
Still, uncertainty remains almost 16 weeks after her party won an inconclusive federal election. In addition to the vote by SPD rank and file, cabinet posts -- including the powerful role of finance minister -- have yet to be negotiated.
Read more: Five policies that will make or break Merkel's next coalition
Merkel has governed with the SPD in an alliance of Germany's two biggest parties for eight of her 12 years in office. A rerun signals their lack of a "big bold vision," while probably providing "a mild fiscal stimulus," said Carsten Brzeski, German chief economist at ING-Diba in Frankfurt.
"For the main actors in these negotiations, a collapse could have marked the beginning of the end of their political careers," he said. "It's a breakthrough that leaves a bad taste in the mouth."
In Merkel's second attempt to restore leadership in Europe's dominant country, the main hurdle to a rerun of the so-called grand coalition of Germany's two main parties now lies with the Social Democrats. The party at first refused to extend their alliance with Merkel after suffering their worst electoral defeat since World War II, and SPD leadership will put the result of the exploratory talks to a party convention on Jan. 21.
"It was clear to us from the beginning that it wouldn't be easy," Social Democratic leader Martin Schulz told reporters in Berlin on Friday. "I think we produced excellent results."
Agreement Highlights

Pledges not to increase overall tax burden on citizens
Prepared to contribute more to EU budget
Calls for "fair taxation" for Internet companies such as Google, Apple and Amazon
Targets introduction of substantial European financial transaction tax
Wants building of nationwide Gigabit network by 2025
May increase clean power share to 65% from 38%
Plans to subsidize construction of 1.5 million new apartments
The progress in stabilizing Germany's government propelled the euro to a three-year high versus the dollar, trading at $1.2135 as of 4:30 p.m. in Frankfurt. 
The German parties' glacial place in setting up a new administration is testing the patience of voters who gave Merkel's Christian Democratic-led bloc the most votes in the Sept. 24 contest. Merkel, 63, has been acting chancellor since, putting most policy making in Europe's biggest economy on hold.
While the German economy goes from strength to strength, her bloc and the Social Democrats are seeking to hold a political center that's been eroded by the rise of the far-right Alternative for Germany, or AfD. 
EU 'Relaunch'
Merkel defended the deal saying it sets the stage for ensuring Germany's prosperity for the next 10 to 15 years and for the "relaunch of Europe" in partnership with France. 
"Preliminary terms of this accord appear more favorable for Europe than the terms of the previous" attempt to form a coalition, French President Emmanuel Macron said in Paris, adding that he was skeptical about the deal's call for a European monetary fund. "I'm concerned about potential confusion between instruments. I'd rather keep things distinct so we don't get confused."
The pressure now will be on Schulz to push through the agreement. The SPD leader plans to tour local party chapters next week to sell the deal, while the SPD's youth organization plans protest rallies to lobby against it.
Many SPD members are wary of serving as Merkel's junior partner for a third time after the party's support plunged in September's federal election. Should the SPD party conference in Bonn approve the preliminary deal, the negotiating partners will embark on weeks of formal coalition talks to set the agenda for the new government.
The chancellor is under pressure to succeed after her attempt to patch together a coalition with the Green party and the pro-market Free Democrats failed in November. Any coalition pact will have to cover the gamut from left-wing SPD members to the socially conservative CSU in Bavaria.
"In the seemingly long period of time since the election, we've seen that the world is not waiting for us," said Merkel.
— With assistance by Iain Rogers, Rainer Buergin, James Regan, Chad Thomas, and Gregory Viscusi
Before it's here, it's on the Bloomberg Terminal.
LEARN MORE