business
Disney CEO Iger Got Paid $36.3 Million Last Year. And That's Likely to Go Up
By and
Compensation this fiscal year to include a $100 million award

He could get $60 million in cash if operating income surges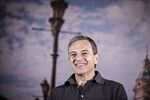 Walt Disney Co. Chief Executive Officer Bob Iger got $36.3 million in compensation last year as the company announced plans to acquire a majority of 21st Century Fox Inc. His pay will probably more than double in fiscal 2018.
Iger, 66, received a $15.2 million cash bonus tied to results including segment operating income and return on invested capital, the Burbank, California-based company said in a filing Friday. Total compensation fell 17 percent from a year earlier.
Shrinking TV viewership and fewer films caused annual sales and profit to fall for the first time in almost a decade, but Disney took steps in other areas to boost growth. It bought a majority stake in video streaming platform BamTech, opened an "Avatar"-themed attraction at one of its amusement parks in Orlando, Florida, and announced the $52.4 billion deal with Fox in December.
Iger has been a permanent fixture on the Bloomberg Pay Index, which ranks the 200 top-paid U.S. executives at public companies, and probably will be near the top after Disney's fiscal year ends on Sept. 30. In conjunction with the Fox deal, he signed a new contract that boosted his regular compensation and entitled him to an additional $100 million in stock awards. Iger will now serve as CEO until 2021, the fourth time the company postponed his planned retirement date.
The CEO also has a cash bonus of as much as $60 million that's contingent on Disney generating at least $78.3 billion in adjusted operating income for the five years ending Sept. 30. Operating income must grow by about a third to $20 billion to reach that target, according to data compiled by Bloomberg.
Iger's pay also included $17.3 million in equity awards, split between stock options and restricted shares linked to performance, and a $2.5 million salary.
Senior executive vice presidents Alan Braverman, Christine McCarthy and Kevin Mayer each received about $8.5 million in total compensation.
— With assistance by Jenn Zhao
Before it's here, it's on the Bloomberg Terminal.
LEARN MORE