XBT Selling Bitcoin Domain Name After Suing Over Trump Dossier
By
Tech firm says publication by BuzzFeed damaged reputation

Company was alleged to have aided hack of Democratic Party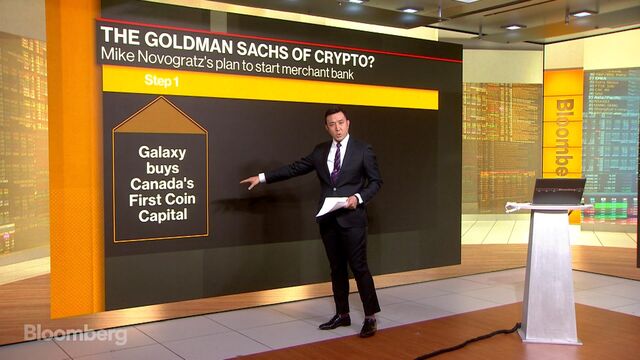 A tech company linked to the hacking of the U.S. Democratic Party in a disputed dossier about Donald Trump is selling its internet domain name, which happens to include the same three letters some traders use as shorthand for bitcoin.
XBT Holding SA, a privately held web-hosting and data-storage firm based in Luxembourg, is auctioning off the rights to xbt.com and has set the minimum price at 200 bitcoins. That's about $2.9 million as of Wednesday. The bidding opened Jan. 5, a year after BuzzFeed Inc. published a collection of documents that XBT says has wrongly tarnished both its reputation and its finances.
The dossier, compiled by research firm Fusion GPS, contained what BuzzFeed described as unverified allegations. Among them were that XBT and its subsidiary Webzilla carried out cyberattacks against the Democratic Party by transmitting viruses and stealing data. The firm's former chief executive officer, Aleksej Gubarev, played a key role in the operation and was recruited under duress by Russia's Federal Security Service, the dossier alleged.
XBT and Gubarev have denied the allegations and are suing BuzzFeed and its editor-in-chief, Ben Smith, in federal court in Florida for defamation.
The tech company has owned the domain name since 2010 -- when a single bitcoin was worth just pennies -- according to Chief Financial Officer Rajesh Mishra. Acquiring the web address could be a big win for a cryptocurrency firm, and it would provide XBT with some extra cash, Mishra said in a phone call Monday.
"This domain has way more value in the hands of someone in the cryptocurrency business," Gubarev said in emailed remarks provided by his lawyer, Val Gurvits. "Also, the brand name of XBT has severely suffered due to the false allegations in the dossier, and we are considering re-branding as the result of the reputational damage."
Cat Photo
BuzzFeed redacted Gubarev's name from the online version of the report and issued an apology last February, but the media organization has since shifted its stance.
"Since the lawsuit was filed, we've issued a number of subpoenas to federal agencies, former intel officials and private companies to confirm that the dossier was circulating at the highest levels of government," Matthew Mittenthal, a spokesman for BuzzFeed, said in an email. "We've also been using every tool to determine whether, as the dossier claims, Gubarev's servers were behind the DNC hack. We look forward to resolving this case in court and reaffirming our First Amendment rights."
When BuzzFeed tried to have the lawsuit dismissed on jurisdictional grounds or moved to New York last year, XBT filed a response titled "Six Ways BuzzFeed Has Misled the Court (Number Two Will Amaze You) ... And a Picture of a Kitten" -- an apparent jab at the media company's penchant for clickbait stories and fuzzy-animal posts.
BuzzFeed's motion was denied, and a trial is currently set for August. Last month a federal magistrate in Florida turned down a bid by XBT to force BuzzFeed to detail how it obtained the dossier. The news site was also sued in federal court in New York on Tuesday by Michael Cohen, Trump's personal attorney, over publication of the dossier. Mittenthal, the BuzzFeed spokesman, said the company looks forward to defending itself in court in that case.
Russian Roots
Gubarev founded web-hosting company Webzilla in 2005, three years after moving to Cyprus from Russia, court filings show. He was in his mid-20s at the time. XBT started six years later and now employs about 300 people, most of whom are in Cyprus, said Michael Robinson, a spokesman for the company. It has 37,000 servers and operates in 40 countries, according to its website.
Gubarev stepped down as CEO at the beginning of this month, though he remains a shareholder. He was replaced by Nick Dvas, who had been chief operating officer of XBT subsidiary Servers.com, according to his LinkedIn profile.
"This decision has many reasons," Gubarev said in the email sent by his lawyer. "Certainly the company is mature enough to grow on its own. But of course, false allegations against me and the damage to my reputation were also a consideration."
Offers to buy XBT's domain name must be submitted with a deposit of $10,000 or 0.5 bitcoin, according to terms on the firm's website. The company, which plans to use the web address xbtholding.com after a deal closes, hasn't received any bids yet, Robinson said this week.
For more on cryptocurrencies, check out the Decrypted podcast:
— With assistance by Ilya Khrennikov
Before it's here, it's on the Bloomberg Terminal.
LEARN MORE