Who'll Blink First in the Border Wall Standoff?
President Donald Trump has decided his Mexican border wall is a political hill to die on, at least for now.
By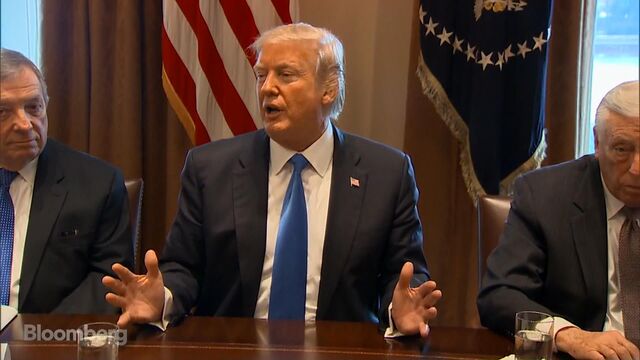 Want to receive this post in your inbox every morning? Sign up for the Balance of Power newsletter, and follow Bloomberg Politics on Twitter and Facebook for more.
Donald Trump has decided his Mexican border wall is a political hill to die on -- at least for now. 
The U.S. president says he won't back down from demands that any immigration deal include wall funding as lawmakers from both parties rush to cobble together an agreement that can help avert a government shutdown next week.
Trump stopped short of overtly saying he'd veto government funding legislation that doesn't include money to begin building a physical barrier on the U.S.-Mexico border. 
But the implication was clear and hangs over lawmakers' efforts to balance protections against deportation to some 800,000 young undocumented immigrants brought to the U.S. as children with Trump's demands, which also include tighter border security.
An immigration agreement could open the way to a broad spending bill, which in turn could carry disaster relief funds, legislation stabilizing Obamacare and other measures that stalled in December.
The question now is whether Democrats will hold firm in their red line against wall money -- and whether they or Trump have stronger resolve. 

Global Headlines
Iran decision | Despite calling it "the worst deal ever," Trump is poised to extend sanction waivers required under the 2015 Iran nuclear accord rather than potentially scuttle the pact. The president, who has also voiced support for Iranian anti-government protesters, plans to make a final decision today as Iranian Foreign Minister Javad Zarif meets EU officials in Brussels.
Shock treatment | Treasury Secretary Steve Mnuchin faced a test run on debt market shocks yesterday, with a Bloomberg News report that China may slow purchases of U.S. government debt which sent 10-year Treasury yields soaring. While officials in Beijing later cast doubt on the story, it highlights a staffing gap that could leave the Trump administration exposed in the event of a Chinese policy change and raises questions about Mnuchin's engagement with the U.S.'s largest creditor.
'Zombie' Nafta? | With a seventh round of talks planned for February in Mexico City, Andrew Mayeda takes a closer look at possible Nafta survival scenarios should the U.S. decide to pull out of the trade deal. Negotiations have made little progress so far, and a breakdown remains a distinct possibility, begging the question of how Canada, Mexico and U.S. lawmakers might respond. 

For more graphics and analysis on investors' concerns, click here.
Haley's ambition | Oprah's not the only one stirring talk of a presidential campaign. Ambassador Nikki Haley's ability to channel Trump's blunt style is prompting her fellow UN envoys and foreign-policy specialists to ask whether the 45-year-old former South Carolina governor is laying the groundwork for a bid to succeed her boss in the Oval Office. Kambiz Foroohar and Toluse Olorunnipa take a closer look at how Haley is positioning herself.
President by Skype | Carles Puigdemont won the backing of his separatist allies for a second term as Catalan president yesterday. The question is how he takes office. Faced with arrest if he returns to Spain from his self-imposed exile in Brussels, Puigdemont is considering being sworn in via video call.
And finally... Trump may have the bigger button, but that hasn't stopped Kim Jong Un from trying to push it. An article in the North Korean leader's flagship newspaper, Rodong Sinmun, surmised that brisk sales of journalist Michael Wolff's "Fire and Fury" were due to "rapidly surging anti-Trump sentiments" around the world and "foretell Trump's political demise." Internet satirists are speculating about how much Kim himself might be enjoying the book.

Before it's here, it's on the Bloomberg Terminal.
LEARN MORE