This Venture Firm Is Going All-In on Crypto for Its Next Fund
By and
Move comes after bitcoin's 1,400 percent surge in 2017

Regulation, scams and volatile market makes move a risky play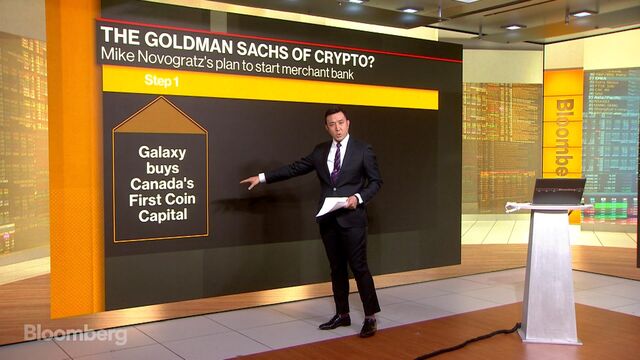 The allure of cryptocurrency is so high that one venture capital firm has decided to go all-in on the currency for its next fund.
Full Tilt Capital, a Raleigh, North Carolina-based venture firm that focuses on seed-round investments, will be putting 100 percent of its next fund in crypto, according to a letter to investors obtained by Bloomberg. The company is seeking to raise $25 million, according to a person familiar with the efforts.
"There have been radical shifts in important trends across venture capital that recently required us to think critically about the future of the industry," the firm said in the letter to investors. "It will be more advantageous for founders, companies and investors to leverage tokenized securities, cryptocurrencies and the blockchain for all fundraising activities."
Full Tilt isn't the first fund to start investing in these types of assets, though it is putting a higher percentage of its capital into the space than others. Bessemer Venture Partners recently received approval from its investors to buy cryptocurrenies.
There has been a slew of offerings in this space that have turned out to be questionable, so Full Tilt isn't dismissing the substantial risk that comes with the move.
"This new strategy will require incredible discipline and focus to conduct proper diligence, avoid the many existing scams, and select the projects and companies with a sustainable advantage," managing partner Anthony Pompliano, a former Facebook Inc. product manager and startup founder, wrote in the letter.
The fund will focus on pre-sale initial coin offerings, tokenized securities and general investments related to blockchain and cryptocurrencies. The strategy has lured venture capitalists both because of the surge in crypto returns, but also because the investments are becoming more liquid -- sometimes even more-so than initial public offerings, according to a Harvard Business Review article last year.
Full Tilt has deployed $15 million into 65 deals over the past 18 months, said the person, who asked not to be identified discussing a privately held company.
Before it's here, it's on the Bloomberg Terminal.
LEARN MORE