Tunisians Urged to 'Reclaim' Their Revolution as Protests Rage
By and
Demonstrations called for on 7th anniversary of 2011 uprising

Government unable to calm unrest that's run for 3 nights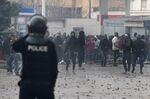 Opposition groups urged Tunisians to "reclaim their revolution" as days of sometimes violent protests over economic hardship threaten to spin out of control.
The call for major demonstrations on Jan. 14, the seventh anniversary of the fall of autocrat Zine El Abidine Ben Ali in the first of the Arab Spring revolts, came ahead of another night of violence into Thursday. Demonstrators in several cities looted shops and clashed with police, who responded with tear gas and detained nearly 330 people. The opposition bloc accused the government of presiding over a deterioration in Tunisia's society, economy and politics.

That claim was condemned by the Islamist Ennahda party, a member of the ruling coalition, for "providing political cover that justifies acts of violence and vandalism"' in a bid to bring about early elections.
The immediate trigger for the unrest was a 2018 budget that cuts spending and raises taxes in a bid to bring the deficit to below 5 percent. Demonstrations have swelled into one of the most serious challenges to Prime Minister Youssef Chahed's government since it was formed in late 2016. Authorities promised the International Monetary Fund they would cut spending in exchange for a $2.9 billion loan that year.
Subsidy Cuts
Although Tunisia has eclipsed other Arab Spring nations in building democratic institutions since 2011, successive governments have failed to bring about the kind of economic and social revival Tunisians had envisaged when they pushed Ben Ali from power. 
Cuts in subsidies for fuel and food are exacerbating hardship, while youth unemployment rate exceeds 25 percent, or about double the national figure. Annual inflation reached 6.4 percent at the end of 2017, up from 4.2 percent a year earlier. Tunisia has also grappled with political instability and militant attacks that have driven away investors and tourists.
Appeals from Chahed, including a pledge that this would be the last year of economic malaise, have failed to resonate, and the powerful UGTT labor union has seized on the disquiet to call for pay increases and a higher minimum wage.
"By choosing to increase taxes across the board, the authorities opted for the only available choice they had, due to the UGTT's strenuous opposition to spending cuts," said Eurasia Group senior analyst Riccardo Fabiani. But "Tunisia has probably reached the limit of how many more taxes and price increases the population can accept."

In Tebourba, where one protester was killed Monday night, demonstrators pelted the security forces' headquarters with stones, Radio Mosaique reported. In the Ibn Khaldun district of Tunis, security facilities were attacked with Molotov cocktails, it said.
Chahed has accused the main Popular Front opposition party of hypocrisy, saying that while its lawmakers backed the budget plan, its leaders are now calling for protests.
The party isn't alone in seeking to score political points ahead of general elections in May, according to Fabiani.
Before it's here, it's on the Bloomberg Terminal.
LEARN MORE