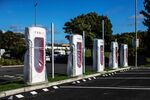 When Elon Musk first unveiled the Tesla Model 3 sedan in March 2016, consumers stood in long lines at showrooms to place $1,000 deposits, giving Musk an iPhone moment unprecedented in the auto industry. When people stand in line at an Apple Store, they typically walk away with a new phone; the all-electric Model 3 had yet to be built.
Overwhelming demand inspired Musk to announce in a May 2016 letter to shareholders that he was advancing Tesla Inc.'s production plans by two years: It would build a total of half a million cars annually by the end of 2018, rather than 2020—a fivefold production boost in just two years. For Tesla, which had no experience manufacturing cars in high volume, the already steep production learning curve suddenly looked like a hockey stick. "We are hellbent on becoming the best manufacturer on Earth," Musk said during its May 4, 2016, earnings call. When asked how many Model 3 sedans Tesla expected to make,Musk said "100,000 to 200,000" in the second half of 2017.
Musk has had to walk back those audacious production goals again and again. While Tesla made about 101,000 cars in total in 2017, it delivered only 1,770 Model 3 sedans to buyers in the year's second half. In August, Tesla said it expected to achieve a manufacturing rate of 5,000 Model 3 vehicles a week by the end of the year. In November the company backpedaled, saying it would hit 5,000 units a week in late March 2018, citing "production bottlenecks," primarily at its mammoth battery plant in Nevada, known as Gigafactory 1. Musk conducted that earnings call from the Gigafactory, saying he was on the "front lines" of production hell.
With Model 3s rolling off the production line so slowly, manufacturing half a million cars in 2018 appears highly unlikely. And the slow pace is raising questions among investors about whether Tesla will be forced to raise more cash. Meanwhile, many consumers who have been waiting for their car for almost two years will have to wait even longer. "I have no idea what's going on behind the scenes," says Michelle Krebs, director of automotive relations at Cox Automotive. "They vastly underestimated how challenging it is to mass-produce vehicles, and quality should be their focus. Tesla needs to stop promising what they can't deliver."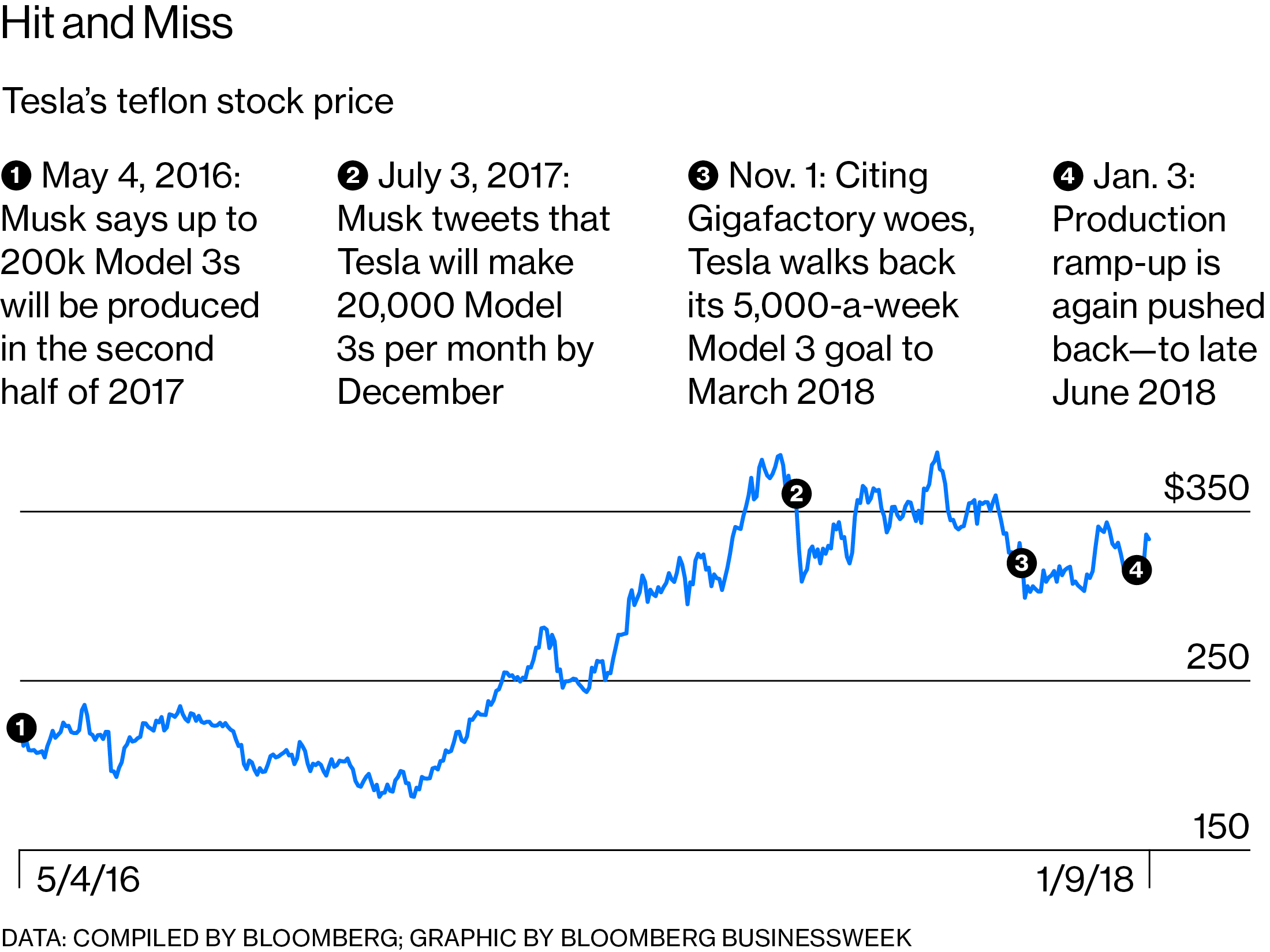 On Jan. 3, Tesla delayed the production goal by yet another quarter, saying in a statement that it now expects to hit 5,000 units a week by the end of June, with a "focus on quality and efficiency rather than simply pushing for the highest possible volume in the shortest period of time."
Concentrating on quality makes sense for the carmaker. "While Tesla's repeated guidance revisions could begin to risk damaging its elite brand, a mass-recall would probably be far more damaging," wrote analyst Romit Shah of Nomura Instinet in a note to clients. Still, the continued delays give rivals more time to chip away at buzz-driven Tesla's reputation as the preeminent EV maker.
The Model 3, which starts at $35,000 before options or incentives, is Tesla's effort to bring an affordable electric car to the masses. But the coveted $7,500 federal EV tax credit will be out of reach for some Model 3 reservation holders. Under existing law, the tax credit starts to phase out once an automaker sells a total of 200,000 electric or plug-in hybrid vehicles in the U.S.—a number Tesla is expected to hit this year. So the longer mass production of the Model 3 is delayed, the more likely it is that tax credits will be used up by purchasers of Tesla's more-expensive Model S sedan or Model X SUV instead.
"We're very grateful to everyone at Tesla who has poured their heart and soul into helping with the Model 3 ramp and creating the progress we are seeing," Tesla said in its Jan. 3 press release. "We're also very appreciative of our Model 3 customers, who continue to stick by us while patiently waiting for their cars."
Musk has a habit of setting aggressive goals and then not meeting them. Tesla struggled mightily with production snags involving the seats and falcon wing doors of the Model X. Some investors are used to its history of missed deadlines and say that, in the long run, a quarter or two delay doesn't really matter. Tesla's stock surged 43 percent in 2017, despite the factory setbacks.
But it's clear that lately the automaker's been more skilled at marketing than manufacturing. "The materially missed launch cadence could be the result of too optimistic assumptions on the company's part as regards the ease of manufacturing the Model 3," wrote JPMorgan Securities analyst Ryan Brinkman in a note to clients. "The highly (over?) engineered Model X has been held up even by management as having not been designed for manufacturing, and the Model 3 was to mark a marked departure in terms of its ease of assembly."
The delays have fueled speculation that Tesla will need to raise more capital soon. Brian Johnson, an analyst at Barclays Capital, projects that Tesla will burn through $4.2 billion this year and assumes the company will raise $2.5 billion in an equity offering, probably during the third quarter. Tesla ended September with about $3.5 billion in cash and projected an additional $1 billion in capital expenditures during the last three months of 2017. The production delays also may defer some spending, says Cowen & Co. analyst Jeffrey Osborne.
Still, Tesla has increased its deliveries of Model 3s in recent weeks. That, plus the fact that Musk visited Chile over the holidays, was a sign to some investors that the worst is over. "The production hell is behind them," says Ross Gerber, chief executive officer of Gerber Kawasaki Wealth & Investment Management. "Clearly if Elon was not getting the cars off the line, he would be sleeping at the factory again."
BOTTOM LINE -
Tesla pushed back its production timetable for the Model 3 sedan yet again in early January—the latest sign of the carmaker's difficulties adjusting to high-volume manufacturing.
Before it's here, it's on the Bloomberg Terminal.
LEARN MORE