politics
Nafta's Dead. Long Live Nafta. A Look at Likely Outcomes
By
Pro-trade lawmakers in Congress could try to block withdrawal

Negotiations could continue even after Trump gives notice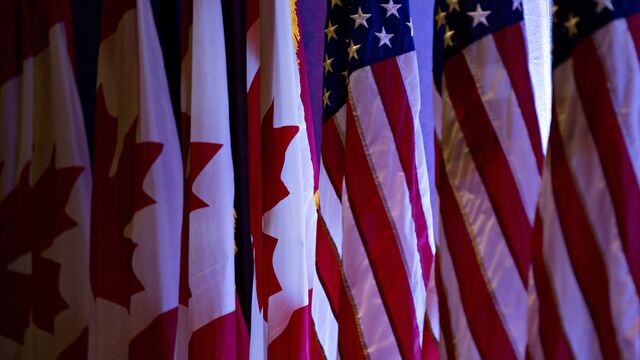 Markets shuddered on signs the U.S. may be preparing to withdraw from Nafta. But even if President Donald Trump serves notice of a pullout, the trade deal could survive.
Under the accord, the U.S., Canada or Mexico can withdraw after giving six-months' notice. Scant progress has been made on the thorniest issues ahead of the sixth round this month in Montreal, fueling speculation Trump will follow through on his threat to walk away.
Investors are looking to any clues. Canada's dollar and Mexico's peso dropped and Mexican stocks retreated following reports on Wednesday that Canada sees an increasing chance the U.S. will exit Nafta. The White House later said its policy hasn't changed. Treasury Secretary Steven Mnuchin on Thursday reiterated Trump will pull the plug if Nafta can't be revamped.
What would happen next has become a topic of debate among trade lawyers in Washington. Here are three possible scenarios, each with its own implications for markets and the North American economy:
Zombie Deal
Just because the president issues a withdrawal notice doesn't mean the U.S. will formally pull out after six months. Since announcing the U.S. will leave the Paris climate-change agreement, for example, the U.S. has sent signals that it may stay in the accord under certain conditions.
There's also speculation Congress could prevent the White House from dismantling Nafta. Under the Constitution, Congress has the power to "regulate commerce with foreign nations." Pro-Nafta groups could challenge Trump's decision in court, arguing he doesn't have the authority to withdraw.
Kill Nafta? It's Not as Easy as Trump Might Think: QuickTake Q&A
Republican lawmakers who support Nafta could also team up with trade-supportive Democrats to block the repeal of the law that formally implements the trade pact. The key issue will be whether the U.S. raises tariffs on Mexican and Canadian goods, many of which cross the border duty-free under Nafta. The president has broad authority over tariffs, but some experts believe Congress could throw up roadblocks.
In other words, Nafta could stagger on well after Trump signals a pullout. Goldman Sachs places higher odds on a withdrawal notice than it does on the U.S. actually raising tariffs.
The End
Or, Nafta really could be toast. In this scenario, Congress doesn't stand in the way of Trump pulling out of the deal. Tariffs would rise on goods traded in the region, probably causing prices to increase and cutting into company profits.
An increase in duties would potentially hurt growth, cost jobs and spur inflation for all three nations, with Bloomberg Intelligence and Moody's Analytics predicting Mexico would be the hardest hit.

But none of the countries would be tipped into recession, according to Moody's, which forecasts most of the pain would come in the first two years after the collapse of the deal, assuming the U.S. and Canada would retain the bilateral agreement that preceded Nafta.
"It's a big agreement and we would all lose, all three of us would lose if we were to pull out," former U.S. Trade Representative Carla Hills told Bloomberg TV on Wednesday.
The Start
On the other hand, Trump's notice could just be the start of the next phase of negotiations.
A withdrawal announcement would surely inflame tensions among the three countries. If Trump gives notice of withdrawal, Mexico would follow through on a longstanding pledge to leave the negotiating table, according to a person familiar with the nation's plans.
But after tempers cool, it's not inconceivable they could return to the table. If Trump gives notice this month, the six months would expire before congressional midterm elections in November. But the U.S. could still work out a new deal once the campaign is over, as long as Trump gets an extension of his fast-track negotiating authority from Congress.
After all, trade agreements typically take years to negotiate. The original Nafta entered into force in 1994, nearly three years after negotiations started.
"He wants to at least throw this into doubt and show toughness before the midterm elections," said CIBC Chief Economist Avery Shenfeld. "What isn't clear is whether six months down the road this means the end of Nafta."
— With assistance by Josh Wingrove, and Eric Martin
(
Updates with comment from Mnuchin in third paragraph.
)
Before it's here, it's on the Bloomberg Terminal.
LEARN MORE