Iran Awaits Trump Verdict on Oil Sanctions Deal: What's at Stake
By and
Waivers of U.S. sanctions targeting oil exports up for renewal

Trump's scorn for Iran nuclear deal damping energy investment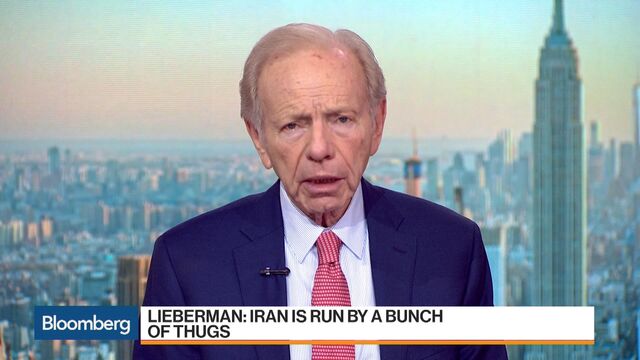 World oil markets are about to get a clearer idea of what Donald Trump's presidency means for one of the biggest crude exporters, Iran.
The U.S. president plans on sticking with an agreement that suspends American sanctions on Iran in return for limiting its nuclear research, according to two administration officials familiar with the matter.
Even so, protests by Iranians against economic mismanagement by their leaders have only toughened Trump's stance against Tehran. His well-known disdain for the nuclear deal is already deterring investors from the country, the third-biggest in OPEC. Of the Western energy majors, only France's Total SA has returned, and it's proceeding slowly.
As global markets await Trump's final decision, here's what's at stake for the oil world.
What's being decided?
Trump is required by law to certify every 90 days whether Iran is complying with the 2015 agreement, which eased U.S. and international restrictions on the Islamic Republic provided it curbs nuclear research. 
During the last review in October, the president said Iran had failed to live up to the spirit of the pact, but he stopped short of re-imposing U.S. sanctions on its energy industry. Now he also has to decide whether to continue suspending penalties for those who buy Iranian crude, sell the country fuels like gasoline, or invest in its energy sector.
"This is the main geopolitical risk of the week, and it is very difficult to predict what President Trump can ultimately decide," said Olivier Jakob, managing director at Petromatrix GmbH.
A U.S. official, who spoke on condition of anonymity, said Trump would make a final decision Thursday. The president is scheduled to meet with his national security team at the White House this afternoon.
What are the consequences for oil markets?
Since U.S. and international sanctions were eased in January 2016, Iran has regained its position as one of the world's biggest oil exporters, shipping more than 2 million barrels a day to customers in Asia and Europe.
Global supplies are tightening as Iran's fellow members of the Organization of Petroleum Exporting Countries cut production to counter a supply glut, and prices have risen to a three-year high of almost $70 a barrel. The earlier sanctions slashed Iran's crude exports in half. If the U.S. were to force that amount of oil off the market again, it could turn a lingering surplus into a shortage and send prices higher.
Iran is trying to attract more than $100 billion from international oil companies to boost crude and condensate output by about 25 percent to more than 5 million barrels a day. Without new investment, production will stagnate, according to Jaafar Altaie, managing director of consultant Manaar Group, which advises clients on Iran.
Total has the biggest financial stake of any international energy major, having pledged to invest $1 billion in the first phase of an offshore natural gas project. Overall investment in the project could reach $5 billion, and while the company is determined to press ahead, Chief Executive Officer Patrick Pouyanne has promised to review the legal consequences of any new U.S. restrictions.
"The uncertainty around sanctions is almost more effective than sanctions themselves," said Altaie of Abu Dhabi-based Manaar. "Trump has succeeded in destroying any kind of certainty around investment in Iran."
What happens if Trump kills the deal?
Many observers are skeptical that Trump will dismantle the accord. As in October, he faces the risks that sanctions won't work and that the U.S. may lose the support of key allies. If Trump reinstates U.S. sanctions, the measures would be unilateral. Washington's leverage is that crude sales are denominated in dollars, meaning any oil deals must go through the U.S. banking system. The U.S. could also penalize American subsidiaries of foreign companies. 
During the most restrictive phase of U.S. and international sanctions, from 2012 to 2015, buyers in Asia limited their purchases of Iranian oil, and the European Union imposed its own embargo on crude from Iran. However, countries that agreed then to buy less Iranian crude are signaling no willingness to cut back now. 
Buyers might try to avoid punishment by paying in non-dollar currencies, like China's yuan, or by working through companies that have no U.S. subsidiaries. If Asian buyers failed to comply with new U.S. curbs, Trump might be in the delicate position of having to impose penalties on China and allies such as South Korea and Japan.
European governments on Thursday offered a staunch defense of the nuclear accord, underscoring the risk of failure for Trump if he restores sanctions without international support. 
"I don't think anybody has so far produced a better alternative" to the deal, British Foreign Secretary Boris Johnson said at a news conference in Brussels.
— With assistance by Nick Wadhams, Margaret Talev, and Nikos Chrysoloras
Quotes from this Article
Before it's here, it's on the Bloomberg Terminal.
LEARN MORE