Hungary Calls April Ballot as Orban Seeks to Extend His Rule
By
Orban party has more than double the support of nearest rival

Vote to determine how strong a majority Fidesz will hold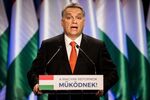 Hungary will hold general elections on April 8, with Prime Minister Viktor Orban on track to extend his tenure as one of Europe's longest-serving leaders.
President Janos Ader's announcement on Thursday formally kicked off the campaign for an election that looks set to resemble the 2014 ballot, when Orban's Fidesz party secured its second consecutive constitutional majority. Polls show the party, which has clashed with the European Union by opposing the bloc's liberal, multicultural values, may get more than the 45 percent of votes it got then, which translated into more than two thirds of all seats in parliament.
Parties are already battling for support among Hungary's 8.3 million voters, with Orban's government running a taxpayer-funded offensive against the EU's handling of the refugee crisis and blaming Hungarian-born billionaire and philanthropist George Soros for meddling in national affairs. Opposition parties are split on how to upset the incumbent, who has tightened his grip on the economy and media during his tenure.
"The main question is whether Fidesz will win with a simple or constitutional majority," Attila Tibor Nagy, an analyst at the Center for Fair Political Analysis in Budapest, said by phone before Ader's announcement. "I don't see any threat from the opposition, who will be battling between themselves for the best runner-up position."
Fidesz would win more than 52 percent of all votes cast, outdoing its 2014 election result, according to a Kozvelemenykutatok.hu aggregation of seven surveys conducted in November, which under the Hungarian system could give the party a two-thirds majority. Jobbik, a nationalist party that's repositioning itself as centrist, would get 17 percent of votes. The Socialist Party, which was in power until 2010, would garner 11 percent and the Democratic Coalition and the green LMP group would also pass the threshold to enter parliament.
Four years ago, observers including the Organization for Security and Cooperation in Europe, said the ruling party had an electoral advantage due to restrictive campaign rules and "biased media coverage." Since then, backing for Orban's illiberal ideology has surged as he built a supportive media empire that includes most regional news outlets and several national broadcasters.
"These won't be proper and fair democratic elections in the classical sense, but the reflection of an increasingly distorted election system built by a hybrid regime," said Peter Kreko, an analyst at Political Capital in Budapest. "Public institutions are practically under the influence of one party, and that is leading to an extremely uneven playing field."
Before it's here, it's on the Bloomberg Terminal.
LEARN MORE