Bannon Expected to Meet With House Panel in Russia Probe
By
Top Democrat on panel says more investigative work needed

Schiff said he's concerned GOP will end probe prematurely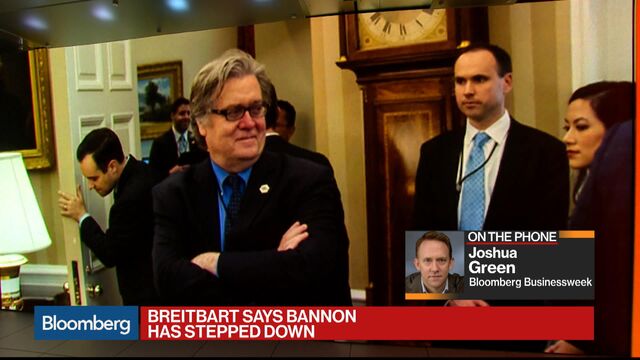 Steve Bannon, President Donald Trump's former chief strategist, is expected to meet privately with the House Intelligence Committee as part of its investigation into Russian interference in the 2016 election, the panel's top Democrat said Thursday.
"We do want him to come in," Representative Adam Schiff of California said Thursday in a meeting with reporters. "It is my expectation he will be doing that."
A committee official familiar with its schedule has said Bannon is likely be interviewed next week, though plans are fluid.
Schiff discussed the potential for a Bannon interview on the same day he summed up the status of the probe. He said that while there is information pointing to collusion between Russia and Trump's campaign, it's premature to say whether a crime was committed. Schiff said he's concerned congressional Republicans will shut down the investigation before that can be determined.
The timing of a Bannon interview isn't tied to his recent falling out with Trump, exacerbated by comments attributed to him in the book, "Fire and Fury"by Michael Wolff. Trump has torn into Bannon -- nicknaming him "Sloppy Steve" -- since excerpts emerged that said Bannon labeled as "treasonous" a 2016 meeting attended by Donald Trump Jr. and Trump son-in-law Jared Kushner with Russian nationals. Bannon has since said he holds former campaign chairman Paul Manafort responsible for allowing the meeting -- held in an attempt to dig up dirt on Democrat Hillary Clinton -- to go forward.
'Voluntary Interview'
Bannon, who hasn't been accused of wrongdoing in the Russia inquiry, was initially invited by the committee in a letter last month. Rather than a subpoena compelling him to testify, the panel sent a request for a "voluntary interview" in its offices. The letter doesn't lay out specific reasons the committee wants to interview them, or the questions the panel wants to pose, but it makes clear that the interviews are part of the Russia investigation.
Bannon was a key member of Trump's team when the president fired National Security Adviser Michael Flynn and FBI director James Comey.
During the presidential campaign, Bannon was also a liaison to its data-analytics firm, Cambridge Analytica.
Alexander Nix, the chief executive officer of Cambridge Analytica, met with the House Intelligence panel earlier this month. Nix faced questions about whether he sought material from WikiLeaks publisher Julian Assange that was stolen from computers of the Democratic National Committee and John Podesta, who managed Clinton's presidential campaign.
Schiff disputed repeated statements by Trump that there wasn't collusion with Russia. He said "the volume of contacts between the campaign and the Russians, the nature of those contacts, the abundant deception around those contacts and multiple lies about those contacts, tell a very different story." 
Still, he said more investigative work is needed. As of Thursday, he said, the House committee had interviewed 53 witnesses, fewer than half of the number interviewed by the Senate Intelligence Committee, which is conducting its own Russia probe.
Schiff said he's concerned Republican Chairman Devin Nunes of California, with House Speaker Paul Ryan's backing, is preparing to wrap things up before all the facts are known.
Ryan spokeswoman AshLee Strong said in a statement last week that the committee's responsibilities in its Russia probe include providing recommendations to Congress to ensure what took place in the last election never happens again. Those recommendations need to come in time to be implemented before the congressional midterm elections later this year, she said.
"It's clear by the endless political posturing by some House Democrats that they would like to see this investigation go on forever," she said in a statement. "Whether it concludes next month, next year, or in three years, they'll say it's too soon."
Before it's here, it's on the Bloomberg Terminal.
LEARN MORE