politics
Trump Deflects Questions About a Possible Mueller Interview
By
'It seems unlikely you'd even have an interview,' he said

Mueller said to have discussed interview with Trump's lawyers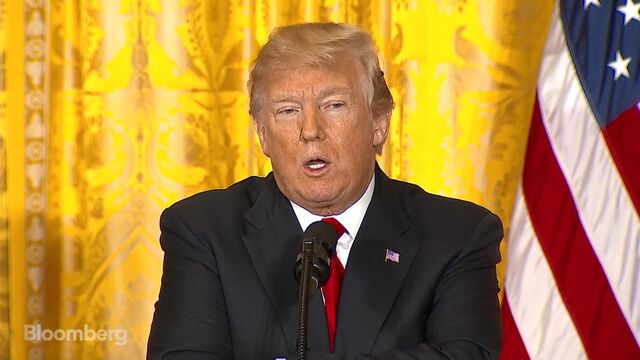 President Donald Trump declined to say Wednesday whether he would agree to a possible interview request from Special Counsel Robert Mueller, who's investigating Russia meddling in last year's campaign, even as the president repeated his contention that there wasn't any collusion with Russia.
"There has been no collusion between the Trump campaign and Russians or Trump and Russians," Trump said during a press conference at the White House. "It has been determined there was no collusion."
Asked again about a possible Mueller interview, Trump said, "I'll speak with attorneys." He added, "It seems unlikely you'd even have an interview."
Trump's legal team is preparing for a potential interview with Mueller and is in preliminary discussions with his office on the parameters, according to a person familiar with the matter. No administration officials have been questioned by Mueller in about a month, the person said.
Mueller has been methodically collecting tens of thousands of documents from the White House and Trump campaign and has interviewed some of the president's closest aides as part of his investigation into Russian meddling in the 2016 election. White House lawyer Ty Cobb has said he expects Mueller's investigation to be wrapped up early this year, though other people close to the probe say months of work remain.

Risks for Trump
An interview would bring its own set of risks for Trump, particularly given his penchant for speaking off-the-cuff. Mueller and his investigators could use any statements they consider misleading or false against him.
Though the question to Trump didn't touch on his Democratic opponent Hillary Clinton, he brought up her 2016 interview during the FBI's investigation of her use of a private email server to conduct official business at the State Department. 
"Hillary Clinton had an interview where she wasn't sworn in, she wasn't given the oath, they didn't take notes, they didn't record, and it was done on the 4th of July weekend. That's perhaps ridiculous, and a lot of people looked upon that as being a very serious breach and it really was," he said.
Then-FBI Director James Comey said at the time that Clinton wasn't administered an oath and that the session wasn't recorded, although the FBI released did release its notes from the July 2 interview two months later. Trump later cited Comey's handling of the Clinton investigation as one of the reasons for firing him.
It was unclear if Trump believes he should be interviewed under the same conditions, given that he called them "a very serious breach," or if he was suggesting some other kind of leniency should Mueller request an interview.
Mueller indicted former Trump campaign chairman Paul Manafort and another campaign aide, Rick Gates, in October. Former National Security Adviser Michael Flynn and a lower-level foreign policy adviser to the campaign have pleaded guilty to lying to Mueller's investigators and agreed to cooperate with the ongoing probe.
— With assistance by Jennifer Epstein, and Justin Sink
Before it's here, it's on the Bloomberg Terminal.
LEARN MORE