Mnuchin's Treasury Is Tested by China's Bond Policy Signals
By
No alarm inside Treasury yet over any possible China shift

China officials said to advise slowing, halting U.S. debt buys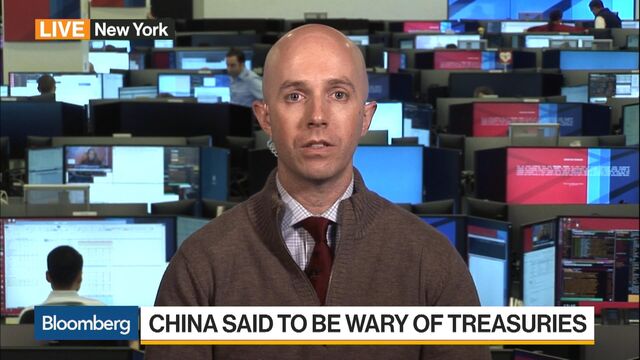 China's hints that it may slow purchases of U.S. government debt gave Treasury Secretary Steve Mnuchin and his team a test run on debt-market shocks.
The episode, prompted by a Bloomberg News report that sent 10-year Treasury yields to their highest level in 10 months before recovering, highlights a staffing gap in the Office of Domestic Finance that predates Mnuchin. That's the arm of the department that would deal with a disruption in debt markets that any major shift in Chinese policy could precipitate.
The incident also raises questions about Mnuchin's engagement with the U.S.'s largest creditor. He's met with Chinese counterparts in Washington and during G-20 meetings in Europe, but hasn't traveled to meet them on their home turf. His last three predecessors visited China within the first months of their tenures as Treasury secretary.
The Treasury is "trying to figure out a way to work with China," said Timothy Adams, president of the Washington-based Institute of International Finance and a former Treasury undersecretary. Since the two countries' economic dialogue stalled after talks in Washington in July, "it's not apparent they have found a new formula yet," he said.
No Nominee
Chinese officials reviewing the nation's foreign-exchange holdings have recommended slowing or halting purchases of U.S. Treasuries, Bloomberg News reported Wednesday. While it's not clear whether the talk would lead to any concrete change, the news added to bond investors' woes as global debt markets were already selling off amid signs that central banks are starting to step back after years of bond-buying stimulus.
China's State Administration of Foreign Exchange said in a statement Thursday that the report "might have cited wrong sources or may be fake news." It said such investments are decided by market conditions. Ten-year Treasury yields dropped to 2.53 percent after the statement, from as high as 2.595 percent yesterday.
Nearly a year into Donald Trump's presidency, the administration has yet to send a nomination for undersecretary of domestic finance to the Senate. The job is being filled in an acting capacity by Craig Phillips, a former BlackRock Inc. executive who is a counselor to Mnuchin, according to a Treasury Department spokeswoman.
Mnuchin's predecessor, Jack Lew, also had trouble filling the domestic finance job. The last person confirmed for the job, Mary Miller, left in 2014. Former Lazard Ltd. banker Antonio Weiss withdrew his nomination for the post after liberal Democrats opposed him. Instead, Lew brought him on board as a counselor, and Weiss carried out the duties without the title.
"Having a full team in place allows a secretary to have a sounding board, and those people also serve as interlocutors to industry, markets, global partners and other parts of the executive branch," said Nathan Sheets, chief economist for PGIM Fixed Income, who served as Treasury undersecretary for international affairs in the Obama administration. Still, the secretary has a large staff with hundreds of experienced civil servants to rely on, he said.
Mnuchin speaks to his Chinese counterparts by phone on a regular basis, the Treasury spokeswoman said.
China Visits
While Mnuchin has been well-received during international meetings, he is seen as less interested in playing an economic consensus-building role than his predecessors, Group of 20 officials have said. Hank Paulson, Timothy Geithner and Lew all visited China within months after becoming Treasury secretary.
Much of Mnuchin's time last year was taken up by a tax overhaul, which became law in December. He continues to spend a lot of his time on economic sanctions. He has largely delegated international finance matters to subordinates, people familiar with the matter say.
Inside Treasury, officials aren't alarmed by China's possible down-shifting in U.S. bond purchases, according to three people familiar with the matter. The U.S. has weathered similar shifts before. China issued what turned out to be an empty threat to back off U.S. government debt in 2009 and 2010, according to Brad Setser, who worked at Treasury from 2011 to 2015 and is now a senior fellow at the Council on Foreign Relations in New York.
Still, circumstances this time around are more contentious. China could make it harder for Mnuchin to finance increased funding needs brought on in part by Trump's tax cuts, which are seen adding $1 trillion to deficits over the next decade.
David Malpass, Treasury's undersecretary for international affairs, signaled confidence to reporters in Brussels early Wednesday: "The U.S. Treasury market is a deep, robust market within the world and so we are confident that our economy, with the economy strengthening, that it will remain a deep, robust market."
— With assistance by Simon Kennedy, Sarah McGregor, Liz McCormick, Sahil Kapur, and Chris Anstey
Before it's here, it's on the Bloomberg Terminal.
LEARN MORE