politics
Macron Uses Rome Summit to Advance His Integration Agenda
By and
Seven 'Club Med' nations endorse a European banking union

French president issues challenge: 'convince our partners'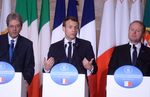 French President Emmanuel Macron, pressing his ambitious drive for reform of the European Union, said he and six fellow leaders at a summit of the bloc's southern members agreed to seek "a veritable budgetary union."
Macron, who recently turned 40, was in an upbeat mood at a gathering Wednesday evening with heads of state and government from the so-called Club Med at a Renaissance villa in Rome.
Just back from a trip to China, Macron grinned broadly throughout the photo session, bantered with his host, Italian Premier Paolo Gentiloni, and made a double thumbs-up sign when it ended.
"On European monetary union and the euro zone, we have a real proximity of views and a real ambition," Macron told a closing news conference with Gentiloni and the leaders of Spain, Greece, Portugal, Malta and Cyprus. "We have a clear convergence of views to advance on finalizing a banking union and to go toward a veritable budgetary union."
The challenge now is "to convince our partners," Macron added, "because we need to complete a real financing union that will allow more growth and a better coordination of our policies."
Banking Union
In a September speech at the Sorbonne in Paris -- which Macron cited at the news conference -- he urged closer cooperation on defense, migration and climate change policies, with the aim of laying the foundations for more financial integration of the euro area.
Leaders at the Rome summit called for completion of the banking union, with a single resolution fund and deposit insurance "as soon as possible," according to a final statement. They also urged investment policies to boost growth, and a common policy to defend borders and manage migrant flows.
Gentiloni, whose center-left government faces a general election on March 4 pitting mainstream parties against euro skeptics, said euro zone members must "complete monetary union with tools for stability." He appealed for "a Europe with fewer differences between east and west, between north and south."
Before it's here, it's on the Bloomberg Terminal.
LEARN MORE