quicktake
An Ardent Putin Fan Is Chasing Czech Re-Election
By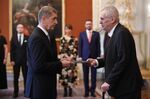 The Czech Republic is deciding this month whether to keep or replace as its president one of Europe's most vocal supporters of Russian leader Vladimir Putin. Milos Zeman -- also an early fan of U.S. President Donald Trump -- is seeking a second term in a runoff election on Jan. 26-27. Over the past five years, Zeman has stretched the boundaries of the largely ceremonial Czech presidency. He's running neck-and-neck with challenger Jiri Drahos, a pro-European Union chemistry professor and head of the Czech Academy of Sciences.
1. Why does Zeman's view of Putin matter?
Zeman has been one of the most prominent voices in Europe calling for the scrapping of Western sanctions against Russia. During the Ukrainian conflict, he referred to the crisis as "something like the flu" and later angered the government in Kiev by saying Russia's annexation of the Crimean peninsula was "fait accompli" and Ukraine should seek a settlement with Moscow. In 2014, he was the only EU leader to attend a conference in Rhodes, Greece, organized by Vladimir Yakunin, one of Putin's close former allies who was put on an asset-freeze and visa-ban blacklist over the conflict.
2. What does he have against the EU?
Within weeks of the U.K.'s Brexit vote in 2016, Zeman proposed holding a referendum on Czech membership in the bloc as well -- with the prospect of leaving labeled, predictably enough, "Czexit." (He said he'd personally vote to stay.) While Zeman calls himself a "eurofederalist," he's scorned the EU for its determination to accept and integrate Muslim refugees, who, he said, will eventually impose Sharia Law, chop off thieves' hands and stone adulterous women. In 2015, UN High Commissioner for Human Rights Zeid Ra'ad Al Hussein said that "repeated Islamophobic" statements by Zeman were adding to "an increasingly xenophobic public discourse" in the Czech Republic.
3. Do his views really matter?
Not as much as those of the prime minister, Andrej Babis, but more than his mostly honorary post would suggest. While holding few formal powers, the Czech president has an important role in public debates ranging from the acceptance of EU membership to how the country treats foreigners.
4. What are the president's powers?
The constitution gives the post few avenues to drive policy, with most executive rights falling to the parliament-backed government. Aside from appointing central bank board members, one of the president's main powers is naming the prime minister after general elections, and Zeman has used his mandate to carve out a stronger role via what he calls a "creative interpretation" of the constitution. Most recently, he's vowed to give a second cabinet-forming mandate to Babis -- with whom he shares euroskeptic and anti-immigrant views -- even after the billionaire's first attempt of forming a government was torpedoed in a parliamentary confidence vote.
5. How popular is he?
Zeman, 73, has been one of the strongest personalities in the central-European country of 10.6 million since the fall of the Iron Curtain in 1989. After playing an important role in the transition from the communist economy, he spent a decade out of the public sphere, returning with fanfare five years ago by winning the first direct presidential election. Critics say Zeman polarizes society with his pro-Russian and anti-migrant rhetoric and his support for anti-establishment politicians including the far-right, anti-Muslim Freedom and Direct Democracy, which is advocating departure from the EU. But polls show that Zeman's office is the most trusted constitutional institution, ahead of the government and parliament, which is at least partially due to the constant bickering among party leaders and several cabinet collapses.
6. What's the outlook for his re-election?
Zeman has stepped up his campaign in the second round to paint Drahos as soft on immigration and lacking the experience that the job requires. The president's office has also fought off speculation from Czech media that Zeman's health -- he's a diagnosed diabetic -- is deteriorating. Drahos has voiced a strong pro-EU message that polls show appeals to higher-educated, urban voters. Opinion polls indicate the race could go either way.
The Reference Shelf
Before it's here, it's on the Bloomberg Terminal.
LEARN MORE