Dan Marino Battling DJ Khaled as Diet War Focuses on Men
By
Weight Watchers, Nutrisystem have both mounted comebacks

Oprah has helped push shares higher with marketing presence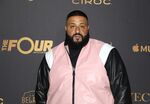 It's time for Dan Marino to tap gloves with DJ Khaled and come out fighting.
The Hall of Fame quarterback and social-media celebrity are on opposing sides in the battle for diet dollars as Nutrisystem Inc. and Weight Watchers International Inc. turn their attention to men in a market geared primarily toward women.
Nutrisytem has trotted out Marino, who has endorsed its weight-loss program for more than a decade, to tout new protein shakes and snacks like beef jerky and bacon ranch chips that appeal to men. Weight Watchers, fresh off a year that saw its stock nearly quadruple, has signed rapper DJ Khaled as a "social media ambassador."
"They're both trying to expand their audience," said Kara Anderson, an analyst at B. Riley FBR, who has a buy rating on both stocks.

The fight for male customers comes as Nutrisytem and Weight Watchers have rebounded after struggling during the boom in free fitness apps. With obesity on the rise and weight loss seen as a key to better health, the companies have reignited growth as Americans once again seek out help with their diets. Another weight-loss company, Jenny Craig, is also on the comeback trail. It's posted revenue growth the past two years after years of decline, in part by adding male customers, according to Chief Executive Officer Monty Sharma.
Nutrisystem has been on a roll: Its shares gained 52 percent in 2017 to close the year at $52.60. They've climbed in each of the past five years under CEO Dawn Zier, who took over in late 2012, when the shares wallowed near $8. The secretive hedge fund Renaissance Technologies is the third-largest holder of Nutrisystem stock.
Zier, who says about 30 percent of Nutrisystem's customers are men, thinks her company has an advantage when it comes to pulling in male dieters. Unlike Weight Watchers, which uses meetings to bring members together to talk about losing weight, Nutrisystem ships food directly to customers and banks on portion control to help people drop pounds.
"Men don't want to talk about it," Zier said in an interview at Bloomberg headquarters in New York. "At lunch, they talk about sports and they don't want to sit through a meeting and talk about their journey."
Slumping Shares
Zier said that when she took the helm, Fort Washington, Pennsylvania-based Nutrisystem had become too focused on producing gourmet food instead of concentrating on its core mission: weight loss. She flipped that around, while also shifting the marketing focus to health from vanity. In her first year, Nutrisystem shares doubled, and the company has posted revenue growth the past four years.
Nutrisystem says the 56-year-old Marino, considered one of the greatest quarterbacks in NFL history, is the perfect spokesman to appeal to men, particularly as the Super Bowl approaches. The Monday after the NFL championship game is "one of the biggest diet-decision days for men," the company says.
"When we started doing this, men going on diet was kind of taboo," Marino said in an interview. "This is simple -- you get the food you need to lose weight."
Enter Oprah
The comeback at Weight Watchers began in October 2015, when the company announced that Oprah Winfrey had taken a stake and agreed to pitch the brand. With the billionaire media mogul appearing in advertisements and tweeting about her weight loss, Weight Watchers added customers after years of declines. The New York-based company has also improved its mobile app and changed the program so that it's more flexible for dieters.
Weight Watchers stock rose almost fourfold in 2017, ending the year at $44.28. On the last day before the announcement of Winfrey's investment, the shares closed at $6.79.
Winfrey's marketing power was once again on display this week, when a well-received acceptance speech at the Golden Globe Awards generated a barrage of headlines and rekindled speculation that she'll run for president. Even though she never mentioned Weight Watchers, the buzz was enough to send the shares flying. 
With Oprah dominating the news for the past two days, the shares gained 22 percent to close at $57.37 on Tuesday, the highest in almost five years.
While Winfrey deserves credit for reviving the brand in the U.S., Weight Watchers has made it easier for customers to diet discreetly, said Anderson, the analyst. That could bring more men into the fold. DJ Khaled will also help the company expand its customer base beyond the traditional audience of middle-age women, she said.
"They think this works for anybody that's trying to be healthier," she said, "and they want to support that."
Quotes from this Article
Before it's here, it's on the Bloomberg Terminal.
LEARN MORE