politics
Chinese Caution on U.S. Debt Clouds Financing for Trump's Tax Cut
By and
News from Beijing may be 'shot across the bow' on trade issues

Trump's tax plan seen adding $1 trillion to federal deficits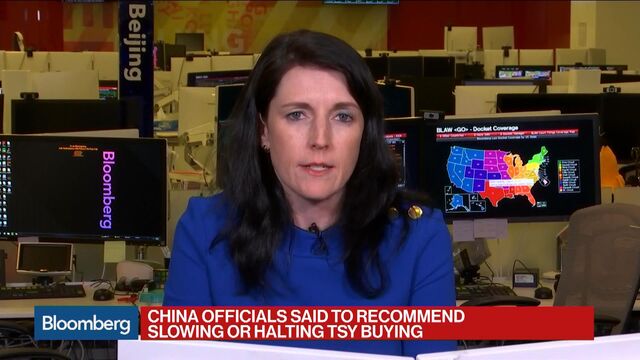 China could make it harder for U.S. Treasury Secretary Steven Mnuchin to finance budget deficits brought on by President Donald Trump's tax cuts.
Chinese officials reviewing the nation's foreign-exchange holdings have recommended slowing or halting purchases of U.S. Treasuries, Bloomberg News reported Wednesday. While it's not clear whether the talk would lead to any concrete change, the news added to bond investors' woes as global debt markets were already selling off amid signs that central banks are starting to step back after years of bond-buying stimulus.
The yield on 10-year Treasuries increased three basis points to 2.58 percent on Wednesday -- its highest level in 10 months.
For U.S. policy makers, there's an extra layer of caution: The Republican Congress and the Trump administration just approved a bill laden with tax cuts that are estimated to increase federal deficits by about $1 trillion over the next decade.
"Financing a big deficit in the U.S. is going to be tough if China is not involved at all, or even worse, if they start competing with Treasury by selling their own holdings," said Thomas Simons, a senior economist at Jefferies LLC in New York. He sees tax cuts and the Federal Reserve's moves to shrink its balance sheet pushing up Treasury's financing needs by 70 percent in 2018.
China owns almost $1.2 trillion of U.S. government debt, more than double the level from a decade ago. Chinese officials believe the market for U.S. government bonds is becoming less attractive relative to other assets, and trade tensions with the U.S. may provide a reason to slow or stop buying American debt, according to people familiar with the matter.
'Deeply Invested'
At the same time, though, China is so heavily invested in U.S. public debt that it has an interest in keeping the market healthy, said Nathan Sheets, chief economist for PGIM Fixed Income, who served as Treasury undersecretary for international affairs in the administration of former President Barack Obama.
"If China were to do something that created uncertainties in the government securities markets, China is a major foreign holder of U.S. Treasuries, so it's deeply invested in that market" and wouldn't want to make any moves that could hurt its own position, Sheets said.
Sheets said the U.S. has withstood similar tests before over the past 15 years. China and Japan are the two largest holders of U.S. Treasuries and each have ramped up purchases due to currency interventions, only to slow down and cause market jitters. China most recently spurred concern in 2015 when it slowed investments. "That leads me to be pretty relaxed about this," Sheets said. "There's lots of demand for Treasuries from the U.S. and abroad."
A top Treasury official signaled confidence in the U.S. government debt market, which at $14.5 trillion is the world's largest.
"The U.S. Treasury market is a deep, robust market within the world and so we are confident that our economy, with the economy strengthening, that it will remain a deep, robust market," Undersecretary for International Affairs David Malpass told a group of reporters in Brussels Wednesday.
'Lot of Weight'
GOP lawmakers expressed similar confidence. "American debt is so well respected around the world -- if China pulls out a billion, somebody else will pick it up," said Senator Chuck Grassley of Iowa. "I don't think it will have any impact," Senator John Kennedy of Louisiana said of the news from China.
Nonetheless, China's position as a major purchaser of Treasuries gives it some leverage to try to shape U.S. responses -- including the Trump administration's tough talk on trade policy.
"China is saying it owns a lot of U.S. debt and carries a lot of weight with what it does with it's foreign exchange policy, so the U.S. can't come at them and attack like that," said Simons, who sees markets suffering if China stops buying Treasuries. "Any foreign country that has significant Treasury investments has a lot of leverage in this situation, the U.S. is going to be turning toward any buyer it can find."
China's latest statements come after the Trump administration helped pass the most extensive rewrite of the U.S. tax code in more than 30 years -- a bill that could reduce federal revenue by as much as $1.5 trillion over 10 years.
Growth Projections
Administration officials and Republican congressional leaders have said the bill will stimulate enough economic growth to cover those cuts -- but an estimate by Congress's official scorekeeper found that federal deficits would still increase by more than $1 trillion over the coming decade.
If less demand for Treasuries caused a spike in interest rates, that "would, of course, slow the growth expectations of the Trump administration," said Jared Bernstein, an economist who worked in Obama's White House. "In the past few days, we've seen Treasury yields climb a bit, but the 10-year T bill is just back to where it was in early 2017, so not a ton to see there yet."
Market participants are also watching the Fed's efforts to start shrinking its balance sheet, bloated through three rounds of emergency bond purchases, by slowly reducing the amount of money it reinvests in Treasuries and mortgage-backed securities. Officials expect the process to take several years and to run quietly in the background as the U.S. central bank continues to cautiously raise interest rates.
In that context, any comments from China on U.S. government debt will get attention -- and in this case, Chinese officials may be trying to send a message to Washington about Trump's trade policies, experts said.
Brad W. Setser, an expert on international economic policy at the Council on Foreign Relations, said he wasn't expecting China to make "big purchases this year even before the announcement."
"Most plausible theory would be China wants to put the market on notice as Trump considers tougher trade action on China," Setser said.
"The broader significance of this move is that it may reflect a shot across the bow from the Chinese government as it braces for trade hostilities emanating from Washington," said Eswar Prasad, a China expert at Cornell University.
— With assistance by Alister Bull, Liz McCormick, and Yueqi Yang
(
Updates with comment from Treasury official Malpass and others beginning in 10th paragraph.
)
Before it's here, it's on the Bloomberg Terminal.
LEARN MORE