politics
China Rethink on Treasuries Is Echo of Premier's 2009 Worry
By , , and
U.S. debt rebounds after jolt on news China may slow purchases

Then and now, few alternatives seen for investing reserves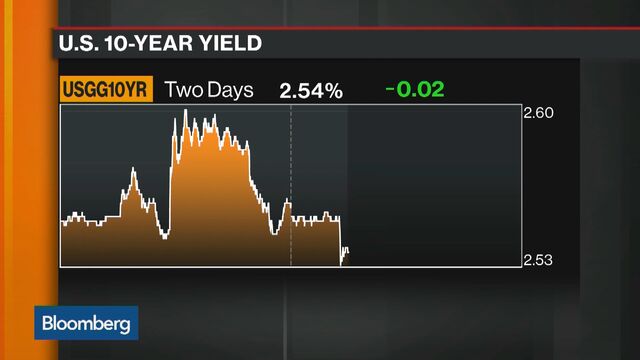 China's showing once again that it's not afraid to wield the clout of its hoard of Treasuries to catch the attention of U.S. officials and the world's biggest debt market. But as in a previous episode in 2009, such warnings may prove hollow.
Senior Chinese government officials have recommended slowing or halting purchases of Treasuries, in part given trade tensions with the U.S., according to people familiar with the matter cited by Bloomberg News Wednesday -- news that wound up having little lasting impact on trading as yields ended little changed after spiking to the highest since March.
China's State Administration of Foreign Exchange said in a statement Thursday that the story "might have cited wrong sources or may be fake news." It said investments in Treasuries are decided by market conditions.
Almost nine years ago, at a time when yields were already heading higher and the U.S. was issuing a record amount of debt to finance stimulus measures, then-Premier Wen Jiabao added fuel to the selloff by saying he was "worried" about the safety of the securities. Weeks later, China's top foreign-exchange official said the nation would keep buying Treasuries.
Then as now, analysts say that while America's biggest foreign creditor has the power to jolt U.S. bond markets, wide-scale selling by China is unlikely given that it has few alternatives to invest its $3.1 trillion in foreign-currency reserves, the world's largest stash.

"One thing that has been really important to China is that the Treasury market is so deep and so liquid," said Amar Reganti, a fixed-income strategist at GMO's asset-allocation group, and former deputy director of the Treasury's Office of Debt Management. "It's challenging to find any real substantial alternatives," with China earning dollars -- the flip side of the U.S. current account deficit.
Brief Jolt
Ten-year Treasuries yielded about 2.56 percent Thursday, around where they ended Wednesday, when they pulled back from close to the highest levels since 2014. As in 2009, the latest news fanning concern about China's appetite for U.S. borrowings comes at an inopportune time, with the Treasury set to ramp up issuance as the Federal Reserve is shrinking its balance sheet.
China owns almost $1.2 trillion of U.S. government debt, more than double the level from a decade ago, with most of the buildup coming as the nation boosted foreign-exchange reserves to help offset a strengthening yuan. The increase came as the size of the U.S. debt market more than tripled to $14.5 trillion.
"China's showing that they have power in the relationship, as anyone who's a buyer of U.S. Treasuries does," said Eric Stein, co-director of global fixed income at Eaton Vance in Boston. "It's been this symbiotic relationship for the past 15 years or so. I don't think that's worked out so poorly for the U.S."
For China, the market for U.S. government bonds is becoming less attractive relative to other assets, and trade tensions with the U.S. may provide a reason to slow or stop buying American debt, said people familiar with the matter, who asked not to be named as they aren't allowed to discuss the matter publicly. China regularly assesses its strategy for investing reserves, and it isn't clear whether the officials' recommendations have been adopted.
2009 Episode
Wen's comments in March 2009 came weeks after Secretary of State Hillary Clinton had urged China to keep buying Treasuries while on a visit to Beijing. After the Wen remarks, made at the close of the annual gathering of China's legislature, President Barack Obama assured America's creditors that U.S. government debt was safe and the nation's finances were sound.
Later that month, Hu Xiaolian, director of China's SAFE, said Treasuries form "an important element of China's investment strategy for its foreign-currency reserves."
China continued to express concerns about its holdings that year, however, prompting Treasury Secretary Timothy Geithner in July to pledge his government would ensure a "sustainable" budget deficit by 2013.
In the end, China lifted its Treasuries holdings by $167 billion in 2009, or 23 percent, U.S. data show.
The stakes may be higher now as tensions with the U.S. have been building since the election of President Donald Trump, who's been critical of the American trade deficit with China and other countries. Meanwhile, China has been gradually moving to a more flexible foreign-exchange regime that would allow it to intervene less in the market.
There are signs that the adjustment the Chinese officials recommended may already be happening. The amount of Treasuries that foreign central banks hold in custody with the Fed and the movement of the yuan point in that direction, in view of some analysts. The Fed holds $3.015 trillion of Treasuries for other central banks, down from $3.052 trillion in September.

In the eyes of some, Chinese officials may be trying to send a message that they have leverage with President Trump talking tough on trade.
'Veiled Threat'
"The markets interpreted this as a veiled threat from China," said David Bloom, global head of currency strategy in London at HSBC Holdings Plc. "That doesn't mean that it is. But people are nervous about the Treasury market at the moment with a global pickup in growth."
Bloom agrees that China has few places to shift its reserves. If it were to dump Treasuries, German bunds could be a destination, though yields there are rising too, he said.
Coming into this year, strategists at Wells Fargo and some other banks were expecting China's Treasuries buying to ebb as they predicted stability in the yuan after a 2017 rally. The consensus among analysts surveyed by Bloomberg is for little change in the yuan by the end of 2018, from its current level of around 6.50 per dollar. A steady exchange rate suggests limited pressure on Chinese authorities to add Treasuries as part of intervening in currency markets.
For China and its Treasuries holdings, "things are more or less as they always have been," said Seth Carpenter, chief U.S. economist at UBS Securities LLC in New York and a former Fed and Treasury official.
"Their holdings have moved up and down through time," he said. "And when it comes to the heightened political interaction between China and the U.S., there has always been this tension."
— With assistance by Chris Anstey
Before it's here, it's on the Bloomberg Terminal.
LEARN MORE