politics
U.S. Chamber Leader Calls Bannon and Warren Extremists
By
Donohue says organization will involve itself in GOP primaries

Group likely to spend more than $29 million on 2018 elections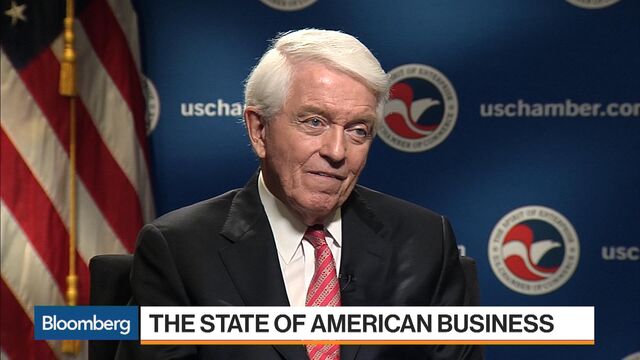 The head of the U.S. Chamber of Commerce said Wednesday his organization will deeply involve itself in this year's midterm congressional elections -- including Republican primaries -- as he called both Steve Bannon and Democratic Senator Elizabeth Warren extremists.
"If we're only sending ideological purists and strict partisans to Washington, we're stopping progress before it even starts," Thomas Donohue, the chamber's president, said in his annual address on American business in Washington. "So, if we're going to fight back against the extremes of both parties -- of Steve Bannon and Elizabeth Warren -- those people do not represent the best interests of this country."
Bannon, President Donald Trump's former chief strategist, is deeply unpopular among the Republican establishment in Washington because he's worked to divide the party along strict ideological lines. Warren, a senator from Massachusetts, is a darling among liberals who has aggressively challenged Wall Street excesses and pushed tougher banking regulation.
Warren fired back, calling Donohue a "millionaire lobbyist" on Twitter. "Here's the basic problem in Washington," she wrote. "Big business lobbyists are so used to running the place that they label anyone willing to stand up to them as extreme. When Tom Donohue and the @USChamber attack me for standing up to corporate interests, I know I'm doing my job."
As part of his prescription for Congress, Donohue said the chamber would work to elect more moderates.
"We need to rebuild the middle in the Congress," he said. "Pro-growth, pro-business candidates can come from both sides and we want more from both sides."
The chamber will most likely spend more than the $29.1 million it expended on the 2016 election cycle, Donohue later told reporters. In his speech, he said the group will challenge candidates in Republican primaries when it thinks an individual is too extreme to be successful in a general election.
"We're not going to spend a lot of money when we have a good candidate running in a safe seat that we feel is not going to be a problem," he told reporters. "We're going to spend a whole lot of money when we have an unsafe seat and a candidate that we believe is more interested in disrupting the process than governing and fixing the process."
Donohue made clear that the chamber wants Republicans to remain in control in Washington, even as he offered outreach to Democrats. "We will attempt to hold both houses of the Congress as it is, while at the same time becoming much more public and engaged in working with Democrats," he told reporters.
The president's party typically loses seats in the midterms -- an outcome made more likely by Trump's historic unpopularity. Republican leaders also face a nascent insurgency, fueled by Trump allies, of populists who reject some of the chamber's business concerns.
As a non-profit trade association, the chamber can raise and spend unlimited amounts of money -- including on political races -- without having to disclose its donors. Some corporate contributors become known because they voluntarily disclose their donations, but the chamber has become a discreet way for corporate America to try to influence elections without publicly picking a side that might alienate customers.
The chamber's $29.1 million in spending in the 2016 election ranked second only to the National Rifle Association for 501(c) non-profits that aren't required to disclose their donors, according to the Center for Responsive Politics. Virtually all of that money was spent to promote Republican candidates or oppose their Democratic challengers.
"In a lot of ways, we spend a lot more than $29 million, as you can imagine," Donohue told reporters regarding the group's efforts to influence elections. "You don't double down without increasing your resources, either that we raise or that we use from our own resources and spend in the effort."
The chamber's efforts won't just be focused on spending money on political ads, Donohue said. "We're going to double down in three ways: resources, working with state and local chambers and associations and others, and working directly with our companies, large and small, to get people to the polls."
Asked whether he would like to see Trump campaign for congressional candidates, Donohue said it depends.
"There are some places where the president can be very helpful in an election" and some places "where he probably won't want to be as active," he said, speaking at the chamber's headquarters across a small park from the White House. "But a president of the United States, particularly a president that has some wins under his belt, is not anything to forget about."
(
Updates with Warren tweets in fourth paragraph.
)
Before it's here, it's on the Bloomberg Terminal.
LEARN MORE