U.S. Senators Urge Government to Probe Intel CEO's Share Sales
By
Reed and Kennedy call reports on Krzanich trades 'alarming'

Intel says it will fully cooperate with any investigations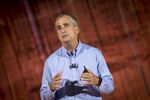 Two key U.S. senators are pushing authorities to investigate whether Intel Corp. Chief Executive Officer Brian Krzanich violated insider-trading rules when he sold off a chunk of his shares in the chipmaker late last year.
News reports that more than $20 million in share sales by Krzanich were scheduled in October of last year before the company made public that its processors were vulnerable to hackers are "troubling," Senators Jack Reed and John Kennedy wrote in Tuesday letters to the Securities Exchange Commission and the Justice Department. Reed, a Rhode Island Democrat, and Kennedy, a Louisiana Republican, are members of the Senate Banking Committee.
"These reports are troubling not only because of the risk to nearly all phones and computers, but also because these reports raise concerns of potential insider trading," the senators wrote. "If you uncover such violations through your examinations, we expect you to enforce our laws to the fullest extent possible."
Read More: Intel CEO Krzanich's Stock Sales Seen Warranting SEC Examination
The bipartisan request for an investigation adds to pressure on Intel, which has said Krzanich's share sales were pre-arranged. Still, his most recent sales were much bigger than usual and the timing didn't match his usual trading style, prompting securities lawyers to predict that they might draw regulatory scrutiny.
"Intel is aware of the letter released by Senators Kennedy and Reed," the company said in an emailed statement. "We will cooperate fully with any governmental inquiries or investigations."
An SEC spokeswoman declined to comment, while a Justice Department spokesman didn't immediately respond to a request for comment.
— With assistance by Alicia Ritcey, and Ian King
Before it's here, it's on the Bloomberg Terminal.
LEARN MORE