politics
Two Koreas Agree to Hold Military Dialogue: Korea Talks Update
By
North Korea athletes, officials, to attend Winter Olympics

Neighbors agreed to hold military talks, further dialogue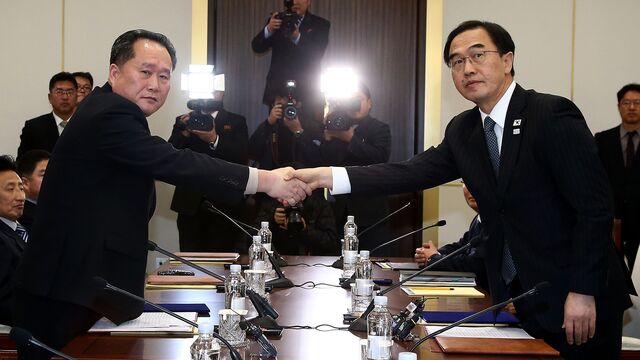 After about 11 hours of talks Tuesday, the two Koreas agreed in a joint statement to hold military talks and further high-level dialogue.
The two countries, which are still technically at war, said they will seek to resolve issues via dialogue and negotiations, according to a the statement released by South Korea's Unification Ministry. They will discuss plans for the next round of talks.
Even so, North Korea took issue with South Korea raising the issue of denuclearization during the meeting, with its top delegate issuing a "strong complaint" to his counterparts from Seoul.

Delegates Enter Final Meeting of the Day (8:09 p.m.)
North Korean and South Korean delegates began their final meeting of the day at 8 p.m. Seoul time.
A joint statement is expected after the conclusion of the talks, which have now continued into their 11th hour. The discussions are taking place at Panmunjom, a village in the Joint Security Area along the heavily fortified border that divides the Korean Peninsula,
Officials Fine-Tuning a Joint Statement (6:15 p.m.)
Officials are fine-tuning a draft joint statement after a day of talks between the two Koreas, a South Korean Unification Ministry official, who asked not to be identified, told reporters.
The discussions began around 10 a.m. Seoul time, with much of the afternoon taken up by working-level talks. They are set to continue into the evening, according to the official, with the final discussion of the day likely to be broadcast live.
Similar talks in 2015 dragged on into a second day.
Separately, the two countries agreed to restore a military communication line from Wednesday morning, South Korea Vice Unification Minister Chun Hae-sung said.
North Korea to Send Delegation to Olympics (2:10 p.m.)
North Korea said it would send a high-level delegation to the Winter Olympics in South Korea next month while expressing a desire to resolve issues on the divided peninsula through dialogue and negotiations.
Kim Jong Un's regime plans to send officials, athletes, a cheering squad, art performers, observers, martial artists and reporters to the Games, Vice Unification Minister Chun said in a briefing on Tuesday after the two sides broke for lunch. They plan to continue discussions in the afternoon.
South Korean delegates proposed that both nations march together at the Olympics in the ski town of Pyeongchang, according to a pool report. The two sides held talks at Panmunjom, a village in the Joint Security Area along their heavily fortified border.
South Korea's proposal included:
Reunions of families divided by the Korean War during the upcoming Lunar New Year
Resumption of military dialogue
Stopping actions that create tensions on the peninsula
North Korea sending as big a delegation as possible to the Paralympics
Restarting talks on denuclearization
North Korea didn't react when South Korea mentioned denuclearization, Chun said. It didn't clarify its position on issues apart from the Olympics but agreed to more discussion, he said.
When asked if North Korea demanded anything to defuse tensions, Chun said: "It has its own position, which is different from ours."
North Korea Jokes About 'Frozen Relations' (1:05 p.m.)
With the temperature under zero degrees for the first meeting between officials from both Koreas in more than two years, Pyongyang's chief negotiator tried to break the ice with a joke.

"It wouldn't be an exaggeration to say that inter-Korean relations have been frozen more than the natural weather," Ri Son Gwon said in his opening remarks.
Officials from both sides were wearing Western-style suits, with the North Koreans donning red badges with pictures of former leaders Kim Il Sung and Kim Jong Il. The South Korean delegation, sporting the national flag and Pyeongchang Olympics on their badges, appeared to have more files in their bags than their counterparts.
The mineral water for the meeting was "Pyeongchang Water" -- named after the South Korean town where the Olympics will be held next month -- with red ginseng tea also available to perk up negotiators should the talks drag on. Catering was by Lotte Group, one of South Korea's biggest conglomerates.
North Korea Urges Live Broadcast of Meeting (10:45 a.m.)
North Korea's top negotiator urged his South Korean counterpart to consider allowing a live broadcast of the talks that started Tuesday.
"There are high expectations, so we wish to open this meeting to the public so that it can be broadcast live to all Koreans," Ri Son Gwon, chairman of North Korea's Committee for the Peaceful Reunification of the Fatherland, told his South Korean counterpart in his opening remarks at the first high-level meeting between the countries in more than two years.
South Korean Unification Minister Cho Myoung-gyon responded by saying the talks should be held behind closed doors but could be opened to the media later if needed.
Talks on Olympics Truce Begin (around 10:00 a.m.)
Discussions started at Panmunjom, a village in the Joint Security Area along the heavily fortified border that divides the Korean Peninsula. They could lead to broader discussions on Kim Jong Un's nuclear program, but the immediate focus is on securing North Korea's participation at the Winter Games starting on Feb. 9 in Pyeongchang, a South Korean ski town.
"The expectations game will be important: the South will want to make concrete progress on the logistical issues, and preserve momentum for inter-Korean dialogue going forward," said Mason Richey, an associate professor at the Hankuk University of Foreign Studies in Seoul. "The North will want to make progress on Olympics participation, but will also probe for opportunities to drive the thin end of the wedge into" U.S.-South Korea relations, he said.

The talks follow North Korean leader Kim's call for dialogue in a New Year's Day address in which he claimed the ability to strike anywhere in the U.S. with a nuclear weapon. American and Japanese officials have sought reassurances from South Korea that the discussions wouldn't undermine United Nations sanctions aimed at pressuring Kim to abandon his nuclear program.
What to Expect When North Korea Talks With Seoul: QuickTake Q&A
Both South Korean President Moon Jae-in and Kim will be able to listen in on the discussions, and intervene if needed, according to a South Korean government official, who asked not to be identified. In addition to the Olympics, South Korea plans to talk about opening a dialogue with the North Korean military and reuniting separated families, Unification Ministry spokesman Baik Tae Hyun told reporters in Seoul on Monday.
U.S. President Donald Trump on Saturday called the talks "a big start," saying they were evidence that sanctions targeting North Korea were working. At Moon's request, Trump delayed annual joint U.S.-South Korean military exercises until after the Paralympic Games end March 18.
The two nations will conduct the military drills from April 1 until the end of May, Dong-A Ilbo newspaper reported on Tuesday, citing South Korean government officials it didn't identify.
Before it's here, it's on the Bloomberg Terminal.
LEARN MORE