Trump Narrows Immigration Debate in Bid to Break Stalemate
By , , and
Democrats, Republicans pushing against crucial deadlines

Less than two weeks remain before government funding runs out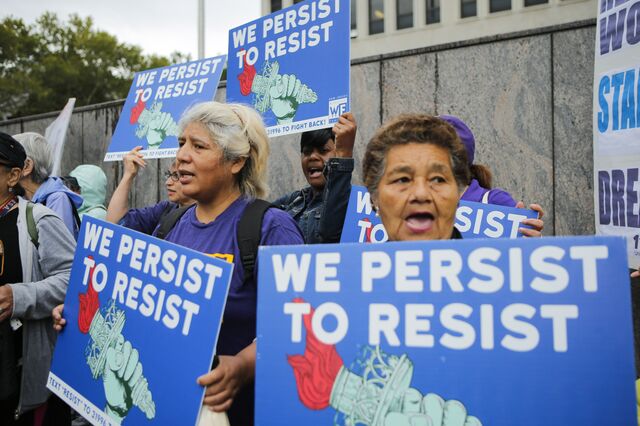 President Donald Trump indicated he's willing to split contentious immigration proposals into two stages, providing protections for young immigrants known as dreamers and increasing border security, leaving negotiations on more comprehensive legislation for later.
The president's narrowing of the debate on immigration may help break a stalemate that's held up an agreement on budget limits and spending as a deadline to avert a government shutdown approaches on Jan. 19.
Trump outlined his stance Tuesday in an unusual 55-minute discussion with lawmakers of both parties that was supposed to be behind closed doors but ended up being conducted in front of reporters. He told the members of Congress he'd sign whatever they agreed to.
"What I approve is going to be very much reliant on what the people in this room come to me with," Trump said.

Trump said he would support a bill that provides a legislative fix to replace an expiring Obama-era program, Deferred Action for Childhood Arrivals, or DACA, along with tightened border security, limiting family preferences for immigration and ending or restricting a diversity visa lottery system.
"I was encouraged by what the president said," Senate Democratic leader Charles Schumer of New York said afterward, adding the "devil is in the details."
Schumer said he was confident Republicans and Democrats could agree on bolstering border security, but he stuck to his stance that it be wrapped up with a measure to extend government funding that must be passed by Jan. 19 to avert a government shutdown.
Comprehensive Bill
Left out of the discussion for now would be broader immigration measures, such as revamping the visa system to make it purely merit-based and creating a mechanism to make it harder for undocumented immigrants to get jobs. Agreement on comprehensive immigration legislation has eluded lawmakers and the White House for years.
Texas Republican Senator John Cornyn said he planned to meet with the other Democratic and Republican lawmakers leading negotiations in the House and Senate Tuesday afternoon to get talks started. "We're moving as quickly as we can," he said.
The negotiations until now have been made more difficult by Trump's shifting and sometimes contradictory statements about his goals for the immigration legislation. After promising early in his term to deal compassionately with the undocumented immigrants brought to the U.S. as children, the president recently has emphasized tougher measures that appeal to his base: building a wall on the border with Mexico, ending the visa lottery system and restricting family-based immigration policies.
DACA Fix
Central to the stand-off is Trump's action to discontinue President Barack Obama's DACA policy which provided deportation protections for undocumented immigrants who arrived in the U.S. as children. Trump extended it to March 5 to give lawmakers time to come up with a legislative alternative.
But Democrats are demanding that a DACA fix be part of a spending deal. They also want the spending legislation to include an agreement on new budget caps that provides for an equal boost for domestic and defense programs, a disaster relief package, Obamacare stabilization measures and other provisions. Republicans want to see a bigger boost for defense spending.
With Republicans holding just 51 out of 100 Senate seats, at least nine Democratic votes are needed to push a deal through the Senate, and many Republicans say Schumer has tremendous leverage.
Schumer's Veto
"Senator Schumer basically has a veto card" on government spending and immigration, said Representative Chris Collins, a New York Republican and close Trump ally.
House Speaker Paul Ryan of Wisconsin said Tuesday that Republicans also want a solution for the young immigrants, some of whom are already losing their protections ahead of an early March full expiration. He also said he's optimistic about prospects for the spending package.
"We're hopeful and confident these bipartisan talks will bear fruit," Ryan told reporters.
Seven senators have been meeting for weeks without success to find a bipartisan immigration compromise.
Bipartisan Meeting
The White House meeting included conservatives such as House Judiciary Committee Chairman Bob Goodlatte, a Virginia Republican, and Senator Tom Cotton, an Arkansas Republican. Democrats include Senator Dianne Feinstein of California, the top Democrat on the Senate Judiciary Committee, and Senator Bob Menendez of New Jersey, both among the Senate's strongest advocates for the young immigrants known as the "dreamers."
Democrats are under pressure from their party's base to aid the dreamers. In a conference call Tuesday, nearly a dozen groups, including the Leadership Conference on Civil and Human and MoveOn.org, called for Congress to move stand-alone legislation granting the expulsion protections and a pathway to citizenship for the young immigrants.
Dick Durbin of Illinois, the No. 2 Democrat in the Senate and one of the leaders of bipartisan negotiations on immigration, said Trump established a sense of urgency on the issue that will be helpful in their efforts.
"I believe that everyone shared a sense of urgency, that we have to do something and do it quickly," he said, adding that the fact that they also "narrowed the conversation" on the first bill helps.
— With assistance by Arit John, Erik Wasson, Yueqi Yang, and Steven T. Dennis
Before it's here, it's on the Bloomberg Terminal.
LEARN MORE