Business
Glaxo Shifts Gears to Fire Up Growth With Rival Astra Closing In
CEO Walmsley has reshuffled 40 percent of top managers to spark innovation
By and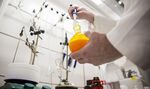 To understand why Emma Walmsley has replaced almost half of GlaxoSmithKline Plc's key executives in the past year, look no farther than the rear-view mirror. Glaxo has long held the title of Britain's biggest pharmaceutical company, but with its shares sliding it now risks being overtaken in market value by AstraZeneca Plc.
Astra Chief Executive Pascal Soriot, a maverick with a strong appetite for risk, is winning over investors with an emphasis on research and a stable of new cancer drugs. Walmsley, a seven-year veteran of Glaxo who took over the company's top job last April, faces a potential slowdown in the company's HIV business, waning sales of its biggest treatment — asthma drug Advair — and concerns she will cut the dividend. 
When Soriot took over in late 2012, Astra's market value trailed Glaxo's by almost 35 billion pounds ($47 billion). Today, the difference is about 1 billion pounds. Through 2022, Bloomberg Intelligence predicts, Astra will lead 13 big drug companies in earnings growth. Glaxo sits at No. 11.

"There's more upside to the Astra story," said Ketan Patel, a fund manager at EdenTree Investment Management who holds shares of both companies. "If you are a long-term investor in this sector, you want to pay for innovation."
Facing pressure to rejuvenate her company's pipeline and make its pharmaceuticals division more competitive, Walmsley has replaced about 50 of 125 top managers, aiming to bring in new ideas and skills. Key hires include Luke Miels, a Soriot protégé poached from Astra who is heading the pharma unit; Karenann Terrell, a former executive at Wal-Mart Stores Inc. appointed to the new role of digital and technology chief; and Genentech veteran Hal Barron, a cancer specialist who will explore new technologies to develop breakthrough drugs.

Chief Strategy Officer David Redfern says Glaxo offers the right balance, paying a significant dividend to investors while ensuring sufficient cash flow to fund new prospects. "We do both," Redfern told Bloomberg Television Monday. "That will enable us to invest more in the business."
Walmsley signaled that she isn't finished scrutinizing her staff. Glaxo is making sure it has the best people in 370 key roles as the company seeks to change its culture and move at a quicker pace, she said Tuesday at a conference in San Francisco.
The CEO's toughest challenge may be keeping investors calm while she explores acquisitions and invests in research. Just expressing interest in Pfizer Inc.'s consumer health business — with an estimated price tag of $17 billion — on an October earnings call sent the stock tumbling as shareholders fretted about a dividend cut.
"It's harder to see where the growth is going to come from" at Glaxo, said Tim Rees, a portfolio manager at Insight Investment in London who has pared back his Glaxo holding and added to Astra.
Formed through the 2000 merger of GlaxoWellcome and SmithKline Beecham, Glaxo's strength in consumer health, vaccines, and pharmaceuticals make it a favorite among investors seeking stable, dividend-paying stocks. That stability, though, comes at a cost as the diversity that smooths performance can also blunt growth, said Daniel Mahony, who manages health-care funds for Polar Capital LLP.

About a decade ago, Astra set out on a riskier — but more rewarding — path. Its acquisition of Medimmune in 2007 brought in a raft of new technology and began attracting talented scientists. While the move roiled investors, it set the stage for Astra to focus on acquiring and creating new compounds. 
Now it's regarded as a drug development powerhouse. Even after what looked like a crushing failure in a lung cancer drug trial in July, Astra launched five new U.S. products in 2017, and its shares gained 15 percent last year.
"Astra went down one route," Mahony said. "Glaxo went down the other. You could argue that they were just playing the hand they were dealt."
Neil Woodford, a money manager who had owned Glaxo for more than 15 years, proclaimed a "Glaxit" last year, selling his entire stake after growing frustrated with what he called under-performance. Revenue from the pharmaceuticals division had stagnated, Woodford groused on his blog in May, and growth and margins at the consumer health division were sub-par.
Soriot has made Astra a top contender in the burgeoning field of immunotherapies, with new products such as Imfinzi for lung cancer. Glaxo, meanwhile, scaled back in oncology with the sale of its cancer therapies to Novartis AG almost three years ago, though it held on to some promising-but-unproven compounds and says cancer treatments remain a priority. Walmsley last year said she'll terminate or sell dozens of drugs in development to focus on a smaller number of programs that have the greatest payoff potential.

In London trading Wednesday morning, Glaxo's market value was 66 billion pounds and Astra's was 65 billion. Although positive news at Astra might push it into first place, it could also suffer from another setback like last year's bad news on the cancer drug trial. 
"Soriot took a very bold approach, saying it's got to be about innovation and the pipeline, which means we're going to have to take some risks," said John Rountree, a partner at pharma consulting firm Novasecta Ltd. in London. "That also puts you on a more volatile path."
Before it's here, it's on the Bloomberg Terminal.
LEARN MORE