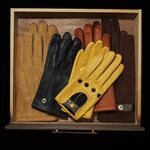 "We're on a mission to bring back glove culture," says Niklas Magnusson, bespoke glove cutter at Hestra, a family company in Sweden founded in 1936. He's in New York on a four-city North American tour to measure clients for custom orders and, while he's at it, resize their ideas about how gloves can look and feel.
Just as the hat, buffeted by the winds of social change in the mid-20th century, stopped being a full-brimmed sartorial statement, so the glove ceased to be anything more than a grudging, ugly defense against frostbite. "People tend to buy gloves that are designed for the coldest day they're going to wear them," Magnusson says. But in recent years, dapper men in temperate climes have revived the stylish glove. You can even see it in pop culture: The paws of Ryan Gosling in Drive and Ansel Elgort in Baby Driver are handsomely wrapped in supple leather as they grip the steering wheels of their getaway cars.
Magnusson is currently evangelizing about the peccary, a piglike mammal native to the Amazon, whose hide makes an excellent glove leather. "You have great dexterity, but it's also quite warm," he says. Gloves made of it are also exclusively priced ($400 for the peccary pair above, second from right), because when Hestra gets the skin, it's typically been scratched by big-cat predators and pocked with shotgun pellets.
Magnusson says he wishes he had more competitors. Many old glovers have died out or spread themselves thin in diversifying their offerings. One exception is France's Lavabre Cadet, whose line for Camille Fournet Paris includes yellow lambskin driving gloves with silk-lined fingers and an alligator closure (€480, or about $576, above middle).
Dents, a U.K. company founded in 1777 that's much favored by the royal family, makes the fleecy York (£107, or about $145, far left). The outer suede and interior fur are made from one piece of lamb shearling. In France, Causse Gantier carries the torch; the brand, founded in 1892, was acquired by Chanel in 2012. It's skilled with nubuck, a calfskin it buffs into a suave velveteen, which is paired above with a cashmere lining (€312, far right).
If you prefer your lambskin glossed, you can do worse than Hermès's buttery Nervure gloves ($840, second from left), which boast black leather so painstakingly worked that a delicate nub on each index finger renders the pair touchscreen-friendly.
Before it's here, it's on the Bloomberg Terminal.
LEARN MORE