Game Changer
This Improbable Welshman Is the Patron Saint of Japan's Forests
C.W. Nicol, already a best-selling author, actor, adventurer, and whisky mogul, adds environmentalist to his C.V.
By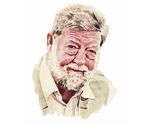 With his bushy beard and deep-set blue eyes and clutching an ax in his massive hands, C.W. Nicol might just be the most intimidating tree-hugger you've ever seen. A Santa dressed in a down coat and a blue beanie, the 77-year-old Welshman may also be Japan's best hope for protecting its forests.
In the mid-1980s he bought up 47,000 square kilometers (18,147 square miles) of decrepit parkland in Nagano prefecture, a three-hour train ride from Tokyo, and founded the Afan Woodland Trust, named after a forest in Wales. Today the preserve is home to 148 types of trees and 137 varieties of wild mushrooms, as well as almost 60 species of wildlife, including owls, red foxes, and black bears, many of which are threatened or endangered. "We brought a dead forest back to life," Nicol says. The role of conservationist is but another line in his colorful dossier, one that includes best-selling author, whisky mogul, actor and singer, and explorer who's worked as a game ranger in Ethiopia and lived with the Inuit in the Canadian Arctic, where legend says he introduced Kikkoman soy sauce to the local diet.
Nicol has always been fascinated with Japan, especially after childhood bullies led him to take up martial arts. He started studying the language in the '60s, between his Arctic and East African stints, and by the mid-'70s he was a full citizen. His 1975 book, Moving Zen, has been credited for bringing karate to the West.
While 67 percent of Japan is already protected, that designation means more on paper than it does in the field. Effective forestry takes effort: Cutting back underbrush allows tree saplings to grow; moving rocks in streams optimizes irrigation. Rural farmers once cared for the wilderness as well as they did for their crops. But as they retired and younger folks decamped for the cities, the wilderness suffered. "The forest has become completely wild—humans hardly ever go in there," says John Harris, a Canadian speechwriter who's spent the past 32 years in Japan. "Japanese life is so urban-centered now, these vast areas are neglected."
Harris calls Nicol the "guru of forest preservation in Japan." Nicol spent a decade digging ponds, bolstering riverbeds, planting and clearing space for trees—hard labor he did himself using traditional tools and horses, which aren't as destructive to new growth as heavy machinery. He's using his low-impact approach to forestry to create a sister preserve in his native Wales. In Japan, Nicol thinks he can persuade the government to designate more areas as protected. "If I can change Japan and make people care about the forests here, I'll be happy," he says. "That'll be something worth protecting."
Before it's here, it's on the Bloomberg Terminal.
LEARN MORE