politics
Rouhani Challenges Iran's Hardliners With Call for More Freedoms
By
President has failed to deliver on vows to ease social rules

Rallies are latest battleground between moderates, hardliners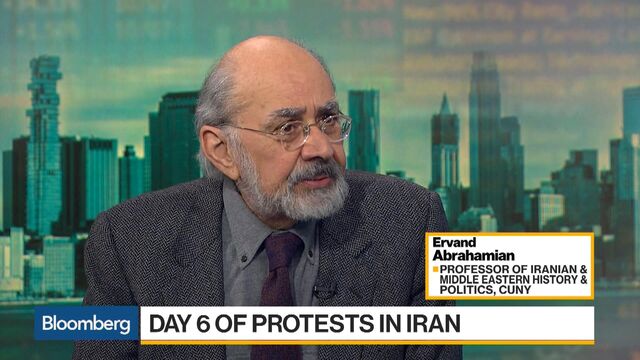 Iranian President Hassan Rouhani said the anger that led to a week of anti-government protests exposed the need for the greater freedoms he has long championed, as well as a stronger economy.
Conservatives have portrayed the demonstrations across the nation as proof that Rouhani's economic policies have failed to improve living standards for the majority, in the latest clash between the two power blocs tussling for supremacy in Iranian politics. In comments to Iran's cabinet on Monday, he attempted to ascribe the anger to a broader disenchantment.
"Some believe that people only want money," Rouhani said. "But would someone be fine having a good monthly pay and have internet access fully blocked, or have his movements outside the house restricted, or not have the right to speak?"
During his almost five years in power, Rouhani has repeatedly called for social restrictions to be relaxed while failing to achieve substantial progress in the face of hardline opposition. His signature achievement -- the 2015 nuclear accord with world powers -- is yet to deliver the economic benefits the government promised Iranians.
Rouhani seems to believe that the Islamic Republic's "revolutionary doctrine must take second place and that the establishment will draw its legitimacy from reforms," said Vincent Eiffling, an Iran researcher at the Belgium-based Centre d'Etudes des Crises et des Conflits Internationaux. He's suggesting that "protesters are also asking for more freedom."
'Hear Us'
At least 21 Iranians died in the protests, which started with a rally in the conservative city of Mashhad on Dec. 28 believed to have been backed by hardliners. Demands initially focused on economic grievances but as demonstrations then erupted in other cities, including Tehran, officials such as the president and Supreme Leader Ayatollah Ali Khamenei were singled out for criticism.
Iranians "are rightfully saying, 'see us, hear us and address our needs,'" Rouhani said, according to state-run Iranian Students News Agency. They "have demands that are partly economic, cultural, social and security-based."
The president "is engaged in an arm wrestle with hardliners on societal reforms and the fight against corruption," said Eiffling. "He could use the protests to further his agenda."
Before it's here, it's on the Bloomberg Terminal.
LEARN MORE