Macron Tells China New Silk Road Can't Be One-Way Street
By and
French leader starts three-day state visit to Xian and Beijing

Xi, Macron to discuss trade, climate, North Korea, technology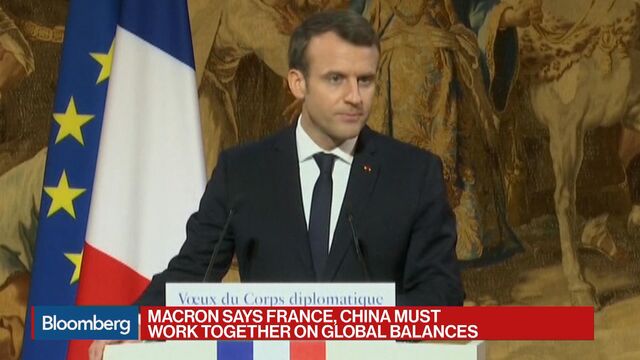 French President Emmanuel Macron called for an overhaul to relations between China and the European Union, pushing for more balanced trade ties while embracing President Xi Jinping's signature infrastructure push.
Speaking on Monday in the ancient imperial capital of Xian, the eastern departure point of the Silk Road trade route, Macron repeated a call for "reciprocity" in trade ties between China and Europe. At the same time, he sought to cooperate with Xi on his Belt and Road Initiative, a plan to spend billions of dollars bolstering infrastructure links between Europe and Asia.
"I came here to tell China my determination to get the Europe-China partnership into the 21st century," Macron said in a speech that ran for more than an hour. "I want us to define together the rules of a balanced relationship in which everyone will win. We must first decide on a frame together."
Macron, 40, is making his first trip to Asia since winning office last year. The three-day state visit will test his ability to simultaneously woo Xi while threatening to make life harder for him as he pursues a more economically sovereign Europe willing to block outside investments.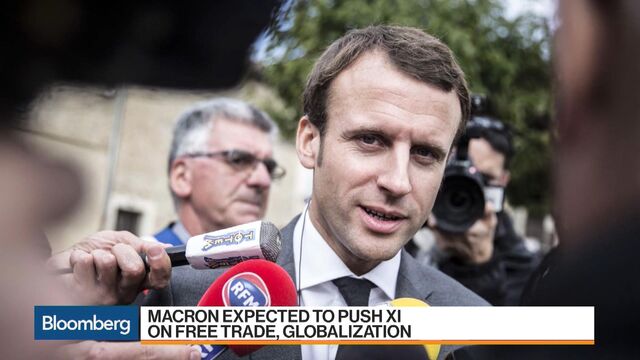 To Western governments including France's, Xi's public defense of globalization has yet to translate into serious attempts to open up China to foreign companies. In the speech on Monday, Macron said that "the ancient Silk Roads were never only Chinese" and said joint work on the route should ensure common intellectual property, competition and access to public markets.
"The new roads cannot only go one way," Macron said. While expressing sympathy with Xi's efforts to get the world behind the Belt and Road Initiative, he said it "must meet our own plans as well."
Pushing hard is still no guarantee of success. President Donald Trump made similar demands during his own state visit to Beijing in November, and left town with little in terms policy assurances -- albeit financial services were a notable exception. The U.S. is now counting on Europe to help provide a united front against China on trade.
Like former President Nicolas Sarkozy, Macron said he aims to visit China once a year as president. He said he understood China's call for Europe to be "a solid partner, that speaks as one."
Macron was set to meet with Xi in Beijing later on Monday, and may announce business deals in the coming days. Executives with BNP Paribas SA, Societe Generale SA, Natixis SA executives are traveling with Macron, his office said, along with Airbus SE Chief Operating Officer Fabrice Bregier.
Airbus Orders
Airbus is discussing a large plane order from China during Macron's visit, according to people familiar with the plans. The size of the order is in flux, while talks are focused on Airbus's A320 single-aisle and A330 and A350 wide-body jets, said the people, who asked not to be named discussing the negotiations. Reuters earlier reported that the Toulouse-based company was in talks on the sale of at least 100 planes going to Chinese carriers.
Representatives of Electricite de France SA and Areva SA were also on the trip. Macron said earlier Monday there would be "new progress" on nuclear energy with China, without elaborating. China is building Areva-designed third-generation reactors, which could be the first of their kind in operation globally, and the two countries have teamed up on a nuclear project in the U.K.
Naive Europe
Since taking office last May, Macron has advocated that the Europe Union strengthen its defenses in the face of both U.S. and Chinese trade competition, saying the bloc must end its "naive" approach. For France as for the EU, making the trade relationship with China more balanced and fair would help to narrow deficits. In Macron's case, that deficit amounts to some 30 billion euros ($36 billion), France's largest bilateral trade shortfall.
"The best Macron can do to help the European and French economies is to take Xi at his word on free trade and globalization and push relentlessly for more reciprocity," Francoise Nicolas, the director of Asian studies at the Institute for Foreign Relations in Paris, said before the speech.
In a speech to French diplomats in Paris on Thursday, Macron insisted that his push is "not for protectionism, just for protection where needed and reciprocity." Europe, he said, "had its door wide open when others had it half or three-quarters closed."

While the new French leader's active foreign policy makes him a potential ally -- not least with his pledge to provide help in maintaining stability in Asia and opposing unilateralism -- his stance on trade may be less welcome. Beijing sees new European trade and investment rules supported by France as discriminatory to Chinese businesses.
"The recent trend of trade protectionism and populism in Europe makes China worried," said Feng Zhongping, vice president of the China Institute of Contemporary International Relations, a government-backed think tank in Beijing. "Currently there is growing suspicion and even hostility about rising Chinese influence in the world. China hopes France can at least hold a fair and level-headed stance, and not side with those spurious arguments."

Xi will accompany Macron on a visit to the Forbidden City -- the imperial palace that served as the political center of China's government for almost 500 years -- and to a start-up incubator, where the French president will deliver a speech. There will be a state dinner for Macron and his wife Brigitte. He will also visit the Chinese Space Academy.
— With assistance by Brendan Scott, Gregory Viscusi, and Peter Martin
Before it's here, it's on the Bloomberg Terminal.
LEARN MORE