Dollar Puzzle May Be Solved in Global Credit Merry-Go-Round
By and
Faster global growth encouraging overseas borrowing in dollars

Greenback valuation negatively correlated with global cycle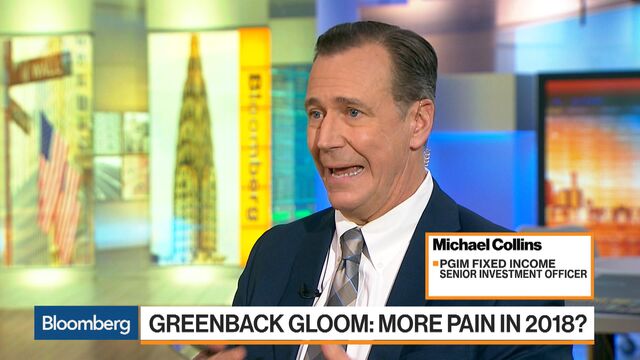 The dollar's status as the world's most popular funding currency is stronger than ever, helping to push the greenback lower even in the face of bullish drivers such as the U.S. tax overhaul and higher short-term bond yields.
A buoyant global economy is encouraging borrowing in dollars by overseas corporations and governments, overwhelming the domestic forces, according to Morgan Stanley. That suggests the dollar's losing streak is set to continue in 2018 as worldwide growth picks up steam. The U.S. currency dropped 9.9 percent in 2017, its worst performance in more than a decade, and has started the new year on a losing streak.
"What investors should not forget is that the globe's major reserve currency must always act as an international funding tool," strategists led by Hans Redeker wrote in a note Wednesday, supporting previous research from the Bank for International Settlements. So the dollar's value tends to dip when the global economic cycle picks up steam, they write.

With two-thirds of hard-currency liabilities denominated in dollars, a weaker U.S. currency provides relief by making it cheaper to service the debt in local-currency terms. A softening greenback also boosts the purchasing power of foreign consumers, and its role in amplifying credit growth has been linked to higher real rates of investment, to boot.
"It is the global growth outlook that matters for the USD as strong global growth suggests a more intensive use of USD denominated credit taps," Redeker and his team wrote. 
Sure, rising U.S. policy rates will test the debt-servicing capacity of levered overseas borrowers. But weak U.S. inflation and low long-dated borrowing costs suggest financial conditions, for now, can stay loose for offshore borrowers, according to Morgan Stanley.
Both the demand for and supply of offshore dollars tends to increase when the greenback falls during economic upswings, the BIS team including chief economist Hyun Song Shin wrote in an October 2017 report.
Expectations of a weak greenback might end up putting further downward pressure on the currency. All else being equal, it should encourage borrowing in the greenback and reduce the effective interest rate in local-currency terms, according to their research.
Such a backdrop also induces providers of dollar credit to loosen their purse strings because they assume borrowers will have an easier time paying the money back.
The upshot, according to Morgan Stanley, is that the expansion of offshore credit growth includes the possibility that dollar weakness can be self-sustaining, up to a point, by boosting economic activity overseas.
"In most major economies, we think the impact that FX moves can have on financial conditions tends to be vastly more important overall than the pass through effects to trade," Ned Rumpeltin, a currency strategist at TD Securities Inc., said in an interview.
Quotes from this Article
Before it's here, it's on the Bloomberg Terminal.
LEARN MORE