Turkey's Halkbank Could Suffer From Ex-Banker's U.S. Conviction
By and
Lender implicated in alleged scheme to evade Iran sanctions

Treasury could curb bank's ability to transact in U.S. dollars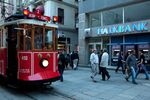 The conviction of a Turkish banker in New York on Wednesday could spell trouble for Turkiye Halk Bankasi AS, the state-run lender implicated in a money-laundering and sanctions-evasion scheme that formed the basis of the prosecution.
The guilty verdict rendered by the Manhattan jury applies only to Mehmet Hakan Atilla, who headed international banking at Halkbank. But federal prosecutors presented a stream of evidence that they said showed that Atilla and other Turkish bankers helped Iran launder billions of dollars to evade U.S. financial sanctions.
If the U.S. government finds that that bank engaged in wrongdoing, it could take a range of actions up to curbing the bank's ability to conduct transactions in U.S. dollars, the lifeline for any bank operating globally. In a statement to the stock exchange, Halkbank said it's not a party to the charges that were aired in the U.S. trial and that Atilla has a right to appeal.
Following the conviction, Joon Kim, the acting U.S. attorney in Manhattan, issued a blunt warning: "Foreign banks and bankers have a choice: You can choose willfully to help Iran and other sanctioned nations evade U.S. law, or you can choose to be part of the international banking community transacting in U.S. dollars. But you can't do both."
Earlier: A Manhattan Trial Wreaks Havoc on Turkish Markets | QuickTake Q&A
Kim's statement suggests that a response may be forthcoming from the U.S. Treasury Department's Office of Foreign Assets Control, or OFAC, which is responsible for enforcing the nation's sanctions laws. The Treasury Department declined to comment, as did Turkey's Treasury.
OFAC's options, if it finds wrongdoing, range from fines and penalties to the most severe punishment -- a special designation, which would effectively cut off Halkbank from the U.S. financial system. It's a rarely utilized punishment described as an extreme penalty for a bank.
"I would be surprised if the bank is not subjected to some kind of enforcement action," said Jack Glover, a former sanctions investigator at the Treasury who has also worked in compliance for banks. "Treasury must be having these discussions right now."
Among other possible actions, "The bank and involved persons in Turkey could be subject to blacklisting or fines," Glover said.
Shares Rise
As Turkey's biggest listed state bank, with assets of 280 billion liras ($74 billion), Halkbank's success is viewed by the government as a national cause. The bank's traditional client base consists mainly of small businesses, and with its options for offshore financing hampered by the trial in the U.S., it's relying on local-currency financing to fund increased lending, Chief Executive Officer Osman Arslan said in an interview on Oct. 20.
The shares rose 15 percent last year, underperforming the Turkish banking index's 32 percent increase. Shares jumped as much as 4.8 percent on Thursday following the verdict, a move that puzzled some investors.
"There may be a perception that the worst of the news flow is behind Halkbank, though I doubt this narrative could conclude without penalties," Julian Rimmer, an emerging-markets trader at Investec Bank Plc in London, said by email.
According to court testimony, senior Treasury officials met with Halkbank officials in Turkey and in Washington, D.C. in 2013 and 2014 to explain U.S. sanctions laws and express concern about Iran's attempts to evade those restrictions through oil transactions with Turkey. The officials said they expressed their concerns to Atilla and he appeared to grasp them, even as prosecutors allege he was helping to devise the laundering scheme.
Any action is likely to come from the office of Sigal Mandelker, under secretary for terrorism and financial intelligence. Atilla had pleaded not guilty to the charges against him. Two other Halkbank executives, including former CEO Suleyman Aslan, had also been charged, but only Atilla was tried, after he was arrested following a U.S. roadshow last year.
Halkbank Impact
Even before Atilla's conviction, the charges against the three executives had already affected Halkbank, which has been effectively shut out of foreign debt markets for more than a year. Halkbank, whose shareholders include BlackRock Inc. and JPMorgan Chase & Co., hasn't sold an international bond since July 2016 or received a syndicated loan from overseas since December 2015. That predates the unsealing of criminal charges against Reza Zarrab, a Turkish-Iranian gold trader, and his associates. Atilla was charged later.
Zarrab initially fought the charges. His lawyer dispatched the high-powered legal team of Rudy Giuliani and Michael Mukasey on a mission to Turkey last February to visit President Recep Tayyip Erdogan in search of some kind of diplomatic solution to the case. Zarrab subsequently pleaded guilty and agreed to cooperate in the prosecution of Atilla.
Halkbank's troubles have been mounting since the failed coup against Erdogan in 2016. His post-putsch domestic crackdown and rapprochement with Russia and Iran have irritated key trading partners including the U.S. and Germany, straining a system that depends on imported capital. The Turkish embassy in Washington didn't immediately respond to a request for comment.
— With assistance by Kerim Karakaya, Asli Kandemir, and Benjamin Harvey
Before it's here, it's on the Bloomberg Terminal.
LEARN MORE