politics
Trump's Break With Bannon Over Book Forces GOP to Choose Sides
By and
Split with strategist benefits Senate GOP Leader McConnell

Bannon remarks in book fuel cry of 'fiction' from White House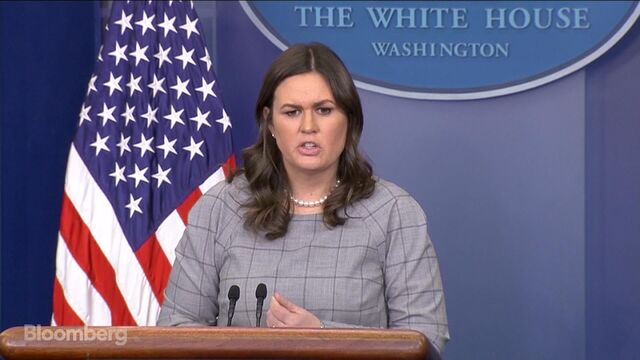 Steve Bannon pledged his continued support of Donald Trump after the president's forceful denunciation of his former chief strategist finalized a political divorce that is forcing a reckoning within the Republican Party.
"Nothing will ever come between us and President Trump and his agenda," Bannon told a caller on Breitbart radio Thursday morning, adding "we're tight on this agenda as we've ever been."

The rift between the former political partners was sparked by comments Bannon made in a forthcoming book about the Trump White House, calling meetings between Trump's family members and Russian operatives "treasonous," among other statements. Trump's lawyer sent Bannon a cease-and-desist letter alleging he broke a confidentiality agreement by "making disparaging statements and in some cases outright defamatory statements" about Trump and his family to the book's author.
Trump told reporters at the White House Thursday that Bannon's more complimentary comments Wednesday evening and Thursday show his former aide "obviously changed his tune very quick." He added that he is no longer in regular touch with Bannon, saying "I don't talk to him. That's just a misnomer."
The breakup between the two is primed to benefit establishment Republicans led by Senate Majority Leader Mitch McConnell, who's long argued that Bannon's promotion of fringe candidates hurts Republican chances to retain control of Congress. McConnell's allies openly cheered Trump's break with Bannon, after excerpts from the book emerged Wednesday.
Candidates, donors and party leaders will likely be forced to choose sides -- between Bannon, the blustery face of far-right populist nationalism, and the president who elevated that ideology to the Oval Office.
The book, "Fire and Fury: Inside the Trump White House" portrays the president as paranoid, erratic and often inept and his administration as riven by petty rivalries that often made accomplishing anything impossible. At the heart of it is Bannon, whom author Michael Wolff quotes discussing his concern that any attempt by Trump to fire special counsel Robert Mueller over his Russia investigation "just brings the impeachment quicker," according to a copy of the book obtained by Bloomberg.
Trump Says Bannon 'Lost His Mind' in Dramatic Break With Ex-Aide
 
In the book, Bannon recounts telling Trump that not only would Attorney General Jeff Sessions leave but also other Trump Justice Department appointees. "We'll be digging down into Obama career guys. An Obama guy will be acting attorney general," Bannon says. He calls one member of Mueller's team, Andrew Weissmann, "the LeBron James of money laundering investigations," a sign to Bannon that was a primary focus of the probe.
 
He also makes clear that he considers Trump's son at risk of indictment -- saying Mueller will "crack Don Junior like an egg on national TV" over his meeting with a Russian lawyer at Trump Tower in June 2016. Bannon called the meeting "treasonous" and "unpatriotic." He also considers son-in-law Jared Kushner at risk for "greasy" deals.

Wolff asserts that Trump had to be talked out of appointing Kushner to be White House chief of staff and elevating Rudy Giuliani, the former New York mayor and an early supporter, to the Supreme Court.
Bannon declined to comment but he pledged to continue supporting Trump on radio broadcasts.
"The president of the United States is a great man," Bannon said late Wednesday on Breitbart News Tonight, a radio broadcast on Sirius XM. "You know I support him day in and day out."
White House Press Secretary Sarah Sanders denounced the book as "tabloid fiction."
Grinning McConnell
Republican strategists see Bannon's removal from Trump's orbit as improving the odds the president takes a more traditional role in helping congressional Republican leaders to protect their majorities in the House and Senate, and hope he'll be less likely to resort to his more combative instincts.
"That outside antagonist is now gone, making it more likely we'll see a Republican president do what he can to protect the Republican majorities that he has worked with to deliver tax reform, judges, regulatory reform," said Scott Jennings, a Republican operative close to McConnell.
The Senate leader's campaign staff tweeted a GIF video of the Republican leader sitting silently at his desk, grinning, after the White House released Trump's statement on Bannon.
Still, Trump has regularly turned to his populist base when under political pressure, working to avoid any erosion among his most loyal followers while his popularity sits at historic lows for a first-year president, ending the year with a 40 percent job approval in Gallup's daily tracking poll. Mueller's ongoing investigation presents a constant peril.
Keeper of Promises
Bannon and his allies view the Breitbart News chief as the keeper of promises Trump made to the white working-class voters who helped elect him and believe the president was already falling victim to the establishment he vowed to overturn -- for example, by abandoning his promise to force Mexico to pay for a border wall and by signaling a willingness to protect undocumented immigrants brought to the country as children from deportation.
Bannon joined Trump's presidential campaign late but steered it through its critical final months, taking over as chief executive in mid-August 2016, when Trump trailed opponent Hillary Clinton by 7 percentage points in national polls. He was the president's chief strategist and perhaps most visible adviser in the frenzied opening months of the Trump administration. Bannon was fired in August, weeks after John Kelly took over as White House chief of staff.
The split with Bannon provides an opportunity for Trump, but not without risk. Breaking from the strategist, who boasted privately in September that he still spoke with the president two to three times a week, could help Trump reset his presidency with a symbolic division from the fringe elements of his base that dragged down his approval rating among moderates.
Fall Guy
But the president has also lost a fall guy for devastating political miscalculations, like his decision to criticize "both sides" after last summer's violence at a white supremacist demonstration in Charlottesville, Virginia.
"Bannon provided Trump with one of his convenient shields that could be discarded in case of emergency," Republican strategist Doug Watts said.
The divide between the two men began after Bannon endorsed former Alabama Supreme Court Chief Justice Roy Moore for the Senate over Trump's preferred candidate, incumbent Luther Strange. Moore defeated Strange, but lost to Democrat Doug Jones in December after several women alleged that the Republican had engaged in sexual misconduct with them while they were teenagers and he was an adult.
Trump has said he always expected Moore to lose, despite endorsing him before the election, and blamed Bannon for the defeat in his statement on Wednesday.
High-Stakes Conundrum
The president aligned himself more closely to McConnell after the December passage of a sweeping tax overhaul that represented Trump's last shot to sign major legislation in his first year in office.
"I would like to congratulate @SenateMajLdr on having done a fantastic job both strategically & politically on the passing in the Senate of the MASSIVE TAX CUT & Reform Bill," Trump tweeted Dec. 20, using McConnell's Twitter handle, after the bill passed the Senate. "I could have not asked for a better or more talented partner."
The break with Bannon will present a high-stakes conundrum for Republicans such as investor Robert Mercer, who has bankrolled both Trump's campaign and Bannon's media projects. A spokesman for Mercer's political operation didn't respond to a request for comment. Far-right Republican candidates hoping to harness both Bannon's political operation and Trump's coattails in elections this year also must recalibrate.
Creating Distance
In Arizona, a spokesman for U.S. Senate candidate Kelli Ward issued a statement distancing herself from Bannon, a featured guest at the October kickoff for her campaign to replace retiring incumbent Senator Jeff Flake. Bannon was "only one of many high-profile endorsements" she had received, Ward said.
Quotes in Wolff's book also raised questions about the future of Katie Walsh, a former White House deputy chief of staff. She left the administration last summer to start America First Policies -- an outside nonprofit organization supporting Trump.
Some top Republicans see the Bannon breakup as bolstering that group's prospects, with the group no longer competing with Bannon for the money and loyalty of Trump supporters.
Others say that critical comments on Trump attributed to Walsh in Wolff's book -- she said that working for him was "like trying to figure out what a child wants," Wolff reported -- could mean her exile from the president. Walsh denied making the remarks.
Four Republicans close to the White House said on Wednesday that Walsh remains in good standing with the Trump team and in her job at the Republican National Committee.
— With assistance by David Voreacos, and Andrew Martin
(
Adds Trump White House remarks Thursday beginning in fourth paragraph.
)
Before it's here, it's on the Bloomberg Terminal.
LEARN MORE