Politics
Mike Pompeo Is the Anti-Tillerson
The CIA chief and former Tea Party Republican from Kansas is everything Trump likes in an appointee—decisive, combative, and loyal.
By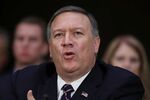 If you had to pick the Trump appointee who had the best 2017, a good choice would be Mike Pompeo, director of the CIA. In a year when a record number of administration officials left and a handful of others came under fire from President Trump, Pompeo is the rare team member whose fortunes have risen. He's a key defender of the president's policies, from Iran to China, and has shown a fierce loyalty, including a proclivity to indulge some of Trump's views on controversial issues such as Russian meddling in the 2016 election. While that may have improved the standing of an agency Trump attacked repeatedly during his presidential campaign and the transition, it's raised concerns about Pompeo's commitment to keep the CIA free of politics.
As much as anyone in the administration, Pompeo has mastered the art of communicating with this president. He's one of the first people in the Oval Office each morning when he shows up to deliver Trump the daily intelligence briefing. By most accounts, this is one of the highlights of the president's day. Not only does Trump get details of the country's most secretive operations, he gets them in bite-sized, boiled-down charts and graphics designed to maximize the attention of a famously fickle president.
It's unusual for the CIA director himself to deliver the briefing every day, yet by doing so, Pompeo has forged a strong personal connection to Trump and also helped bridge what could've been a dangerous gap between the White House and the intelligence community. Trump came into office deeply skeptical of U.S. intelligence agencies, going so far as to accuse the CIA of being the source of leaks against him after the election. "It's hard to say it's not a success that the CIA director has been able to maintain a daily briefing relationship when it looked like all signs were in the other direction," says David Priess, a former CIA officer and author of a book on presidents' intelligence briefings, The President's Book of Secrets.
Pompeo, 54, is seen as a potential successor to Rex Tillerson as secretary of state. A plan to make Pompeo the country's top diplomat has been under debate since at least September, according to one administration official who says White House staff and Tillerson's inner circle all but stopped talking last summer. The U.S. Department of State says Tillerson has continued with a "robust" agenda, which includes a trip to Canada this month to discuss North Korea and a Dec. 28 op-ed in the New York Times lauding the merits of diplomacy. Although talk of Tillerson's imminent departure has cooled over the past couple of months, he and Trump seem to have passed a point of no return. Despite early efforts to build a personal relationship, including dinners during the early days of the administration before Melania Trump moved to Washington, the two never quite clicked.

In Pompeo, Trump in many ways has found his mirror image, someone who shares his penchant for being combative and opinionated. Before being tapped to run the CIA, Pompeo spent six years as a Republican representative from Kansas. Even among the first-time representatives who helped the GOP take over the House as part of the 2010 Tea Party wave, he stood out as a strident critic of the Obama administration's foreign policy. He's perhaps best known for his role castigating Hillary Clinton's response to the 2012 Benghazi attacks. Pompeo ended up drafting his own conclusions separate from the findings of the House Intelligence Committee's Republican majority. He was also one of the strongest critics of the Iran nuclear deal. "Pompeo has a sort of hard-line approach on foreign policy that's quite black and white, and that's also how Trump sees the world," says Ilan Goldenberg, a senior fellow at the Center for a New American Security who worked at the State Department under then-Secretary John Kerry. "This is where Pompeo has really been able to endear himself to Trump."
Pompeo also has the kind of résumé Trump loves to brag about: West Point graduate, U.S. Army veteran, Harvard-trained lawyer, and business owner. In 2006, Pompeo sold the manufacturing company he'd founded, Thayer Aerospace. In an administration filled with multimillionaires and billionaires, he's an exception. His financial disclosure ran to just eight pages, compared with Tillerson's 38-page disclosure that included details of his $180 million retirement package from Exxon Mobil Corp.
While Tillerson has gained a reputation for being isolated and aloof at the State Department, Pompeo holds monthly "Meet With Mike" sessions where CIA officers shoot him questions in an open setting. And while Tillerson has in many ways rolled back the State Department's global presence and centralized its decision-making, Pompeo has empowered CIA staffers. Field officers are encouraged to "carry out more aggressive, agile operations," according to a CIA spokesman. Pompeo has also moved officers out of Washington and into remote areas and pushed decision-making down the chain of command.
Yet not everything he's done has been well-received inside the CIA. Pompeo's decision to have the agency's counterintelligence unit report directly to him while multiple parts of the government are investigating possible collusion between Russia and the Trump campaign carried political overtones. It also raised questions about whether he could influence intelligence that the CIA was sharing with the FBI or congressional committees. According to a CIA spokesman, Pompeo's decision was aimed at stopping the "dangerous leaks and insider threats" that he saw emanating from the agency when he was a member of the House Intelligence Committee.
Pompeo's alignment with Trump and outspokenness on sensitive policy issues have raised questions among current and former CIA staffers: Instead of what's supported by the agency's conclusions, they wonder if the director is pursuing policies and making recommendations that will please the White House, former intelligence officers say. Some analysts inside the CIA are dispirited that Pompeo has policy preferences and isn't valuing their unbiased analysis, according to a former intelligence official, who says officers have described experiencing "deja vu" of the Iraq War, only this time they're being asked leading questions about Iran and Russia. While those on the operational side of the agency have been empowered, some are concerned about chatter of reviving torture or other controversial programs in place during the Bush administration, the former official says.
After Sept. 11 and the Iraq War, the intelligence community has grown "very concerned about being misinterpreted by policymakers in a way that will lead to bad policy outcomes for the nation," says Mieke Eoyang, a former Democratic House Intelligence Committee staffer and vice president for national security at Third Way, a Washington think tank. "So they want to be careful about what they're putting forward, and I don't see Pompeo echoing that carefulness." A CIA spokesman dismissed concerns that Pompeo expresses policy preferences in the questions and analysis that agency analysts are directed to pursue, saying "the director has been adamant that CIA officers have the time, space, and resources to make sound and unbiased assessments that are delivered to policymakers without fear or favor."
There are also reports of curious meetings Pompeo has held at the CIA, including with Tony Perkins, president of the Family Research Council, a conservative advocacy group, and William Binney, a former National Security Agency whistleblower who claims someone with access to the Democratic National Committee leaked its data rather than Russian hackers. Although Pompeo isn't the first politician to hold the job, he's "probably the most political CIA director that we've had," says Burdett Loomis, a political science professor at the University of Kansas who's followed Pompeo's career. "He's made statements politically in defense of Trump that previous CIA directors might not have made."
That includes standing by the president when it comes to Russia. In October, Pompeo caused a stir when he said the intelligence community's assessment of Russian meddling in the 2016 election was that it "did not affect the outcome of the election." Yet the report released by intelligence agencies in January 2017 explicitly said that it "did not make an assessment of the impact that Russian activities had on the outcome." Pompeo subsequently clarified his remarks. In a Dec. 18 call to Trump, Russian President Vladimir Putin thanked the CIA for information that led to the breakup of a suspected Islamic State cell. Following his conversation with Putin, Trump called Pompeo to congratulate him, the White House said.
Should Pompeo end up secretary of state, his relationship with Trump could benefit the department. His reputation as being an approachable and effective manager could also be a welcome change. But his strong ideological positions could cause concern. "Those things about Pompeo that make him appeal more to the president—some of those are going to be really dangerous," Goldenberg says.
BOTTOM LINE -
CIA Director Pompeo has forged a close personal relationship with Trump and is seen as an eventual successor to Tillerson at the State Department.
Before it's here, it's on the Bloomberg Terminal.
LEARN MORE