politics
Merkel's German Coalition Plan Faces an Increasingly Wary Public
By and
Poll suggests growing share views 'grand coalition' as bad

Chancellor anxious to end stalemate in EU's biggest economy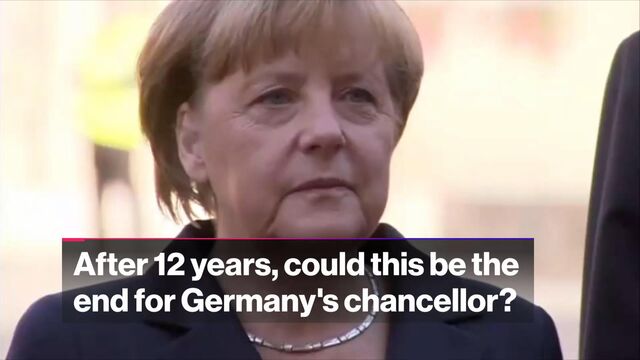 German Chancellor Angela Merkel's plan to extend her governing alliance with the Social Democrats faces increasing public skepticism as she prepares to begin talks with the rival party, according to a poll.
While 53 percent favored Merkel serving another term, only 45 percent backed another "grand coalition" between her Christian Democrat-led bloc and the SPD in the poll published Thursday by broadcaster ARD. Those viewing such a pact as outright "bad" increased by 2 percentage points compared with early December.
Merkel's side is increasing pressure on the SPD to renew the alliance of the country's two biggest parties, end Germany's political stalemate and open the door to a fourth term for the 12-year incumbent. Preliminary coalition talks begin on Sunday in Berlin.
"This project can succeed" if the SPD doesn't "push things too far" in driving a hard bargain, Bavarian state premier Horst Seehofer, whose Christian Social Union party is allied with Merkel at the national level, told reporters on Thursday.
Merkel, who has governed as acting chancellor with the SPD since emerging victorious from an inconclusive national election in September, is pressing for speedy talks. Many SPD members are wary of serving as her junior partner for a third time after the party's worst defeat since World War II in the ballot.
Read more: Germans increasingly oppose full term for Merkel in poll
SPD leaders initially rejected extending the coalition but changed their mind after Merkel's attempt to shift to the Free Democrats and the Green party as junior partners collapsed in November.
Seehofer said he'll "make very effort" to ensure that talks with the SPD succeed.
Merkel's standing among Germans remains high, according to the Jan. 2-3 Infratest Dimap poll of 1,006 people for ARD, which said 65 percent agreed that she's a good chancellor. At the same time, 67 percent said "her best days are over," according to ARD.
Merkel's bloc and the SPD agreed on ground rules for the exploratory talks on Wednesday, saying in a joint statement that "trust has grown" and they were heading into the talks with optimism.
Before it's here, it's on the Bloomberg Terminal.
LEARN MORE